Thorough preparation and the ability to be flexible and agile, when necessary, is helping El Camino Health's Emergency Department and Critical Care Unit continue to provide high quality care as the number of COVID-19 patients and overall patient volume continued to grow through November and December.
"Our patient activity level never really went down from when the pandemic first hit in the spring," said Gagan Bisla, director of Critical Care Services (Emergency Department, Critical Care Unit, and Progressive Care Unit). "We have a good surge plan in place and our team has become more cohesive and have stepped up to the plate to do what needs to be done."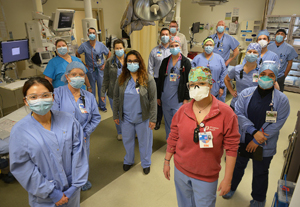 El Camino Health was one of the first hospital systems in the nation to see COVID-19 patients, with the first patient coming to the ER in January 2020. "Our team faced that challenge, with lots of unknowns, without fear," said Gagan.
She noted that earlier in the year many in the community put off seeking care because of COVID-19 and when they did came to ER , they were much sicker. Others were forced to come to the emergency room for care because their physician's office was closed due to the pandemic.
"We set up screening procedures in the emergency room to ensure we protect our patients and staff. We had an ED tent in spring and now a respiratory triage area in the waiting room so we could treat stable patients outside of the ED and minimize risk and exposure," she noted. "Unfortunately, due the fear of pandemic, many patients who needed care still stayed away from the hospital. We also designated a separate COVID containment unit in CCU. There were daily changes to workflow or at times even twice in their shift but the team continued to work hard and put their best effort in no matter the scenario."
She added that the Emergency Department and CCU teams have continued to meet the challenge as the number of ED and COVID-19 patients continues to rise.
"Volume in winter usually rises due to cold weather and flu. This year, we saw more patients with COVID than any other seasonal illness. ED Team, CCU team and PCU team continue to meet the complexities of patient needs along with the increase in COVID census. All three of my teams have been through a lot, but they still remain kind, supportive and happy. They continue to thrive, even in chaos and unpredictable situations, but this is what they are trained to do and they do it very well".
She added, "It's an honor to lead such hardworking and motivated bunch of people. They make me proud every day."