Skip
New Café Opens at Los Gatos
The new café opened just before Thanksgiving. The newly designed space allows the dining room to be open 24 hours a day, even when the kitchen and cafeteria are closed.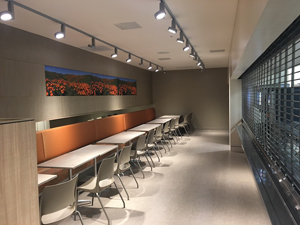 Los Gatos Lobby Renovation Prepares for Phase Two
The area of the lobby that has been under renovation will be opening in the coming weeks, allowing staff members, patients and visitors to see the new finishes and furnishings. Over the last few weeks, patients and visitors have been using a narrow corridor from the main entrance to access the rest of the hospital. Once the newly remodeled lobby area opens for pedestrian traffic, this pass-through corridor will close for the second phase of renovation.
Meanwhile, crews continue to work on the main corridor, also known as "Main Street," and other areas, scheduled for completion in the new year.
This article first appeared in the December 2017 Campus Development newsletter.