Coping with symptoms of depression, anxiety, addiction and other mental health conditions can feel challenging and frightening. It can be overwhelming when those feelings are compounded by what we are experiencing during this current pandemic. People are removed from their support systems, isolated from friends and loved ones, and fearful of risking exposure to a potentially deadly virus.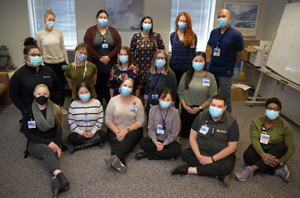 "We're doing a lot of problem solving to continue providing groups and fostering skill use with patients as they struggle with the fear, anxiety and isolation caused by this pandemic. It is a very human response to the unprecedented time we are all experiencing right now," says Salvador Chavez, MS, OTR/L, an occupational therapist for El Camino Health's Scrivner Center for Mental Health & Addiction Services. "In addition to working with patients to provide a safe and therapeutic environment we are supporting one another as employees. We are focusing on what we can control and providing support, resources and education along the way."
COVID-19 required the mental health and addiction services team to change the way group therapy sessions were run and how inpatient care was provided. The team adjusted to this new way of working and providing care, all the while dealing with many of the same insecurities, uncertainties and feelings as that of their patients.
"At the monthly all-staff meetings we recognize the staff member of the month and that person gets a quirky, fun gift" shares Laura Tannenwald, senior program therapist for addiction services. "Everyone who is nominated gets a copy of the written recognition. We're working hard to stay connected and keep our 'Encourage the Heart' culture going."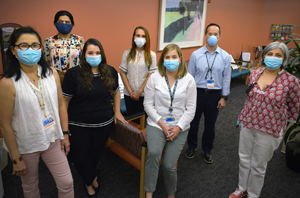 "Every day, we meet to review safety protocols and determine which areas of programming and staffing needs help," adds Laura. "We show appreciation to those who have really stepped up during this time. We encourage self-care for the staff and we suggest leaving your workspace for lunches and breaks. One day everyone got a Kit Kat candy bar. It wasn't long before everyone was singing the jingle - 'give me a break, give me a break, break me off a piece of that Kit Kat bar!' It brought a little levity to the current situation and helped the team cope."
"One of our biggest challenges as a team was providing mental health services while dealing with our own personal worries about what was happening in the world," explains Salvador. "I came into the break room one day and there was a sign that just said 'Hi Friends. Thank you for everything you are doing.' It really made my day. It's the little check-in's with coworkers that have really helped. My advice is to stay connected, keep a routine, and recognize that you are not alone in the worry."
He adds, "The work is not easy and caring for patients with a high level of acuity is challenging. Right now, our patients need our services more than ever. Seeing an anxious patient pace the unit and then finally relax while she works with watercolor, or the patient with psychosis who has a moment of clarity when listening to music, or even the patient who finally gets out of bed to do stretches that makes it all worth it for me. El Camino Health has always been here for the community and that's why I love the work I do. My patients inspire me. I feel fortunate to work with such knowledgeable, compassionate, and dedicated staff and to have the opportunity to be a comforting presence for my patients."