Crews have begun demolition of the Old Main Hospital on El Camino Health's Mountain View campus. Demolition of the 60-year-old building will make way for the following:
Construction of a corridor link between the Main Hospital and Taube Pavilion
An outdoor landscaped courtyard next to Taube Pavilion
An area to install energy cells that provide on-site generated electricity
Water storage tanks to meet 2030 seismic requirements
A new service yard configuration with access to the new loading dock
New water and recycling storage areas
PHASE 1
The first phase includes taking down the building addition connecting the Old Main Hospital to the Integrated Medical Office Building Parking Structure. Crews will also build a temporary service yard and receiving area. This phase is scheduled to be completed between February and March 2022.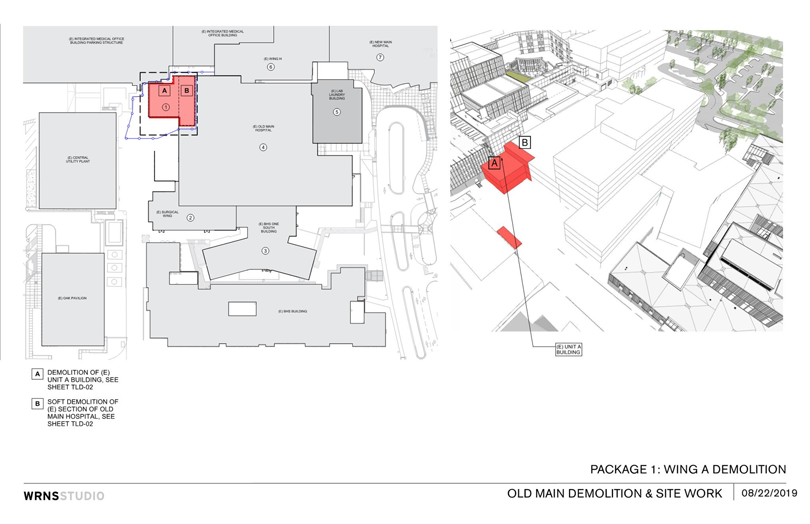 PHASE 2
Once Phase 1 is completed crews will remove hazardous materials and begin demolition of the old hospital in six sequences:
Demolition of the Surgical Wing
Demolition of the One South Building
Demolition of the Old Main Hospital
Demolition of the Lab and Laundry Building
Demolition of the East Temporary Exit Pathway
Demolition of the Temporary Canopy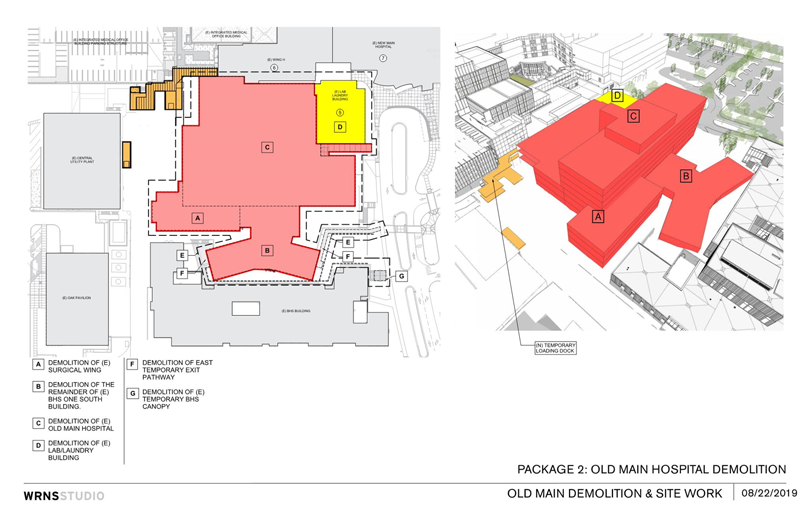 The process will take approximately one year to complete. The total cost for Phases 1 and 2 is estimated at $24.9 Million. Phase 3 will include redevelopment of the entire site within the footprint of the Old Main Hospital building.