Working behind the scenes, and often right in the middle of the front lines, employees in the Patient Experience Department strive to ensure that all patients and visitors have the very best experience possible whenever they visit El Camino Health.
"We are the voice of the patient and want everyone who comes here for care or to visit a relative or friend to have a safe experience," said Chief Experience Officer and Executive Director Christine Cunningham. "So much of what we do is behind the scenes, but when the pandemic arrived in March it was all-hands on deck to help create a safe environment and positive experience for our patients and visitors."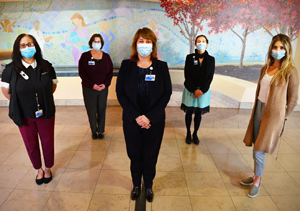 The four-member Patient Experience team partners with all hospital departments on a daily basis, working on a number of initiatives, including routine activities like answering patient inquires by phone, fielding patient complaints, helping recover lost belongings, and fixing issues when they arise.
When the pandemic hit Northern California in the spring, the team became more reactive to an ever-changing situation, working with others throughout the hospital system to help create and communicate visitor guidelines that were constantly being revised to reflect the severity of the pandemic, creating signage that reflected new policies, training staff who helped screen visitors at various hospital entrances, establishing safe social distancing experiences in areas like the Emergency Department, and helping to educate and communicate to patients and their families updated safety initiatives that were put in place when the COVID-19 crisis first began.
The Patient Experience team serves as a connection between patients and loved ones who could not visit in person because of the pandemic, noted Christine. Technology, such as iPads, are used so family members unable to visit, or potentially say goodbye to their relatives in the hospital because of COVID-19, could see and talk to them via the iPad. Texting patients and families became more vital as a way to communicate up-to-the-minute information, especially in the Emergency Department.
The team also communicates to our patients via e-mail in the MyChart patient portal, and El Camino Health telephone operators answer questions and calm anxieties with information that has to be updated on a regular basis to reflect the changing situation. Call volume at the health system jumped more than 100 percent during the pandemic, and continues at record levels.
Additionally, around the holidays, members of the team rounded in all areas, handing out treats such as bottled water and cookies to thank and show appreciation to hard working staff.
"It truly takes a team to provide a good customer experience," said Christine. "With every activity, focusing on providing a positive customer service experience is our No. 1 priority."