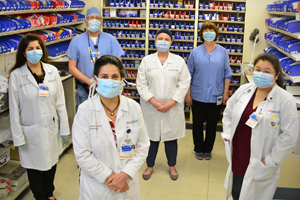 When people think of pharmacy services, what usually comes to mind is the pharmacist behind the counter dispensing medications, not the myriad of services involved in ensuring El Camino Health patients receive the right medications at the right dosage in a seamless fashion. From procuring the appropriate drugs and mixing the proper medications such as intravenous treatments and injectables, to delivering the medication to the unit and advising the clinical team on proper use, the pharmacy technicians and pharmacists partner with clinicians to consult on how to best treat COVID-19 and other diseases from a pharmacological standpoint.
"The pharmacy team is often behind the scenes and people don't realize how involved pharmacy is in treating patients and what a valuable role we play," explains Noori Khadem, MPA/HSA, CPh.T, operations coordinator for the inpatient pharmacy.
At El Camino Health, there are more than 100 employees on the pharmacy team, including inpatient and outpatient pharmacy services at two hospital campuses and those who manage medication reconciliation. These highly skilled and licensed personnel of clinical pharmacists (Pharm. D) and certified pharmacy technicians (CPh.T), spend much of their time researching and securing the right medications, and ultimately dispensing these drugs, so frontline care providers can provide optimal care to patients during these unprecedented times.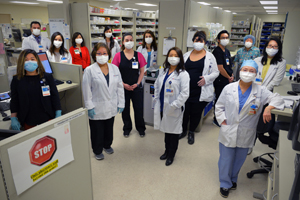 There has been extensive media coverage about various drugs that can be used to treat the virus. Prior to the shelter-in-place order and before a list of drugs were identified for use with COVID-19, the pharmacy team proactively procured a three-month supply of commonly used medications for the type of patients that would require intubation and mechanical ventilation while receiving specialized treatment in the critical care unit. In addition, the team secured a supply of inhalers and antimalarial drugs that were experimentally being used for treatment of patients with COVID-19. By being ahead of the curve, El Camino Health was able to procure necessary medications before they were on backorder due to the high demand. In addition to procuring medications, the pharmacy created a COVID-19 drug kit containing only the required medications for crash carts on the nursing units to reduce medication waste.
The treatment of COVID-19 continues to evolve and our stewardship team under the direction of infectious disease specialist Daniel Shin, MD, has been reviewing all newly published literature and guidelines so clinical staff can provide the most appropriate and latest therapies to patients testing positive for COVID -19. The pharmacy clinical manager has been collaborating with the medical team to procure those medications identified for treating COVID-19, even the ones approved for compassionate use, which means the Food and Drug Administration (FDA) will allow companies to provide their experimental drugs to people outside of clinical trials. Obtaining approval for compassionate use can be a long and difficult process, but the El Camino Health pharmacy team has worked quickly to procure certain medications and gain approval for administration to patients. As a result of the hospital's early compassionate use of Remdesivir, El Camino Health's Taft Center for Clinical Research has been selected as one of 160 worldwide sites to participate in the Remdesivir COVID-19 clinical trials.
Throughout the pandemic, the pharmacy team worked closely with the critical care unit team, clinical research and others to provide the necessary medication, education and direction needed to treat these compromised patients and in many cases, assist them in recovering.