From the start of the pandemic, El Camino Health treated any patient entering the emergency rooms as a potential patient with COVID-19 who posed a risk of spreading the virus. Applying quick thinking and action, the emergency care teams created a separate and dedicated assessment area for patients with respiratory issues or other COVID-19 symptoms to keep them away from patients with other health needs and implemented the use of negative pressure rooms to help minimize the risk of transmission to caregivers and other patients.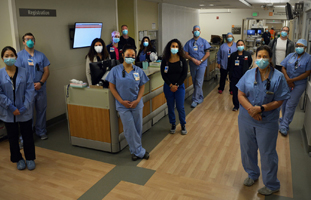 "We all grasped the gravity of the work we were doing and took a very proactive approach to ensuring everyone's safety," says Pamela Fiehmann, clinical manager of the emergency department and intensive care unit at El Camino Health's Los Gatos hospital.
Upon entry into the emergency room and hospital, patients and visitors are thoroughly screened for symptoms of COVID-19. Patients who are experiencing respiratory or infectious disease symptoms are evaluated in separate and dedicated respiratory assessment areas to protect other patients in the emergency department. Isolation and containment rooms are utilized to care for patients requiring hospitalization. Enhanced sanitation efforts remain in place as well and everyone is required to wear a mask while inside the hospital.
During the height of the pandemic, it was crucial to train staff on the proper personal protective equipment (PPE) to use and additional sanitation efforts, as well as isolate anyone demonstrating symptoms of respiratory distress. With protocols and directives from the Centers for Diseases Control and Prevention (CDC) changing multiple times a day, the flow of information was rapid, and the response needed to be almost instantaneous.
"Things were changing so fast and people were a bit on edge as a result," adds Lesley Swafford, assistant clinical manager at the emergency department in Mountain View. "We all wanted to be sure we were using the most up-to-date information and protocols to provide the best and safest care to patients."
The emergency room teams communicated with others in the organization through a central command center. Using daily huddles, texts, an online toolkit and emails, the command center team created a lengthy list of role assignments, an activation plan and near real-time instructions to keep everyone informed. During the daily huddles, the teams also reviewed PPE inventory and supplies were replenished regularly. This extensive proactive and ongoing planning streamlined the emergency room teams' ability to prioritize needs and manage the flow of patients effectively.
"Santa Clara County was one of the first counties in California to enact a Shelter-in-Place order and residents took the order very seriously, which helped stem the tide of patients to the emergency rooms at our campuses," explains Lesley. "This allowed us to do what we do best, triage patients and keep everyone safe."
The CDC also mandated the use of negative pressure rooms to isolate airborne infections such as COVID-19 by preventing the virus from escaping the room and infecting others. The air is pulled into the room instead of pushed out when a door is opened, and then filtered before being moved outside of the building. Each El Camino Health emergency department is equipped with these types of rooms. Whenever a patient coming into the emergency room exhibits signs of respiratory distress and are assessed, they are placed in one of these rooms for care.
The teams' combined effort helped them weather the pandemic storm at its worst and today the emergency rooms continue to care for patients. The emergency care teams advise people not to neglect or delay treatment out of fear and remind community members to pay attention to symptoms in order to seek care quickly and prevent bigger health concerns caused by waiting.