Just a few short weeks ago, most people had no idea what a respiratory therapist does nor did people understand the lifesaving role they often have in caring for patients every day. Respiratory therapists provide diagnostic services and therapy to patients who have breathing difficulty, including people who suffer from chronic respiratory conditions, premature infants, people with sleep disorders, elderly patients with diseased lungs and assist in cardiopulmonary resuscitation.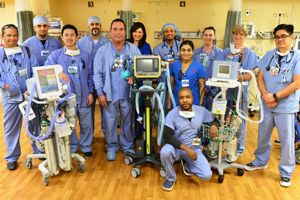 Respiratory therapy is a relatively new medical specialty, and when the novel coronavirus (COVID-19) pandemic struck, the important work these therapists do came to the forefront as the virus often causes severe upper respiratory issues that can even lead to death. El Camino Health's respiratory therapists are the experts who operate the ventilators, clear the patients' airways and monitor their breathing and circulation.
Since patients with COVID-19 first appeared in El Camino Health hospitals, there hasn't been a break in the work for this team. They are engaged with every patient exhibiting respiratory distress, including those with COVID-19, and they follow their care until they are discharged from the hospital or they take their last breath. The work is difficult, the hours are long and the emotional toll of caring for patients who suffer from COVID-19 affects every therapist in one way or another.
COVID-19 often attacks a patient's lungs, making it difficult, if not impossible, for these patients to breathe on their own. Without the careful and skilled monitoring of their conditions by respiratory therapists who are trained to identify changes in condition to regulate breathing, many patients would not survive, let alone get well enough to be discharged home. As a result, respiratory therapists have become more valuable than ever in the fight against the COVID-19. According to Deidre Shin, Respiratory Care Services manager, the biggest challenge has been staying abreast of all the new information that comes in daily to protect the staff, the patients, the community and others from contracting the virus. These therapists are well trained to help patients breathe and they know how to provide respiratory care and treatments under normal circumstances. These are clearly not normal times, but the team has risen to the challenge.
"The respiratory therapy management team is doing all we can to keep the work environment stable and ensure therapists have what they need to do their assignments. We are trying to be strong for the people we love and care about the most and be careful at work during these uncertain times. It's important for our team to know we hear them; we see them; and we want to do anything we can to help them," said Deidre.
To help convey timely and changing information, the respiratory therapy management team frequently round to engage with therapists working at both hospital campuses. Besides keeping informed about personal protective equipment and understanding the new and ever-changing protocols, what is needed is compassion, appreciation and reassurance to address the emotional toll this work is taking. Respiratory therapists act as patient advocates and offer emotional support to patients isolated from loved ones during a very scary time.
Deidre adds, "The El Camino Health leadership team has been providing updates and new information as soon as they know it. Everyone is working together in a multidisciplinary manner to help get patients the appropriate care they need and doing it as quickly as possible."
Since the beginning of the pandemic, the team has worked together to get tasks done efficiently and effectively. Whether picking up extra shifts, bringing food for their team or sharing some encouraging words, the team has rallied together to vigorously fight this virus and will continue their efforts until the last patient with COVID-19 is cared for.