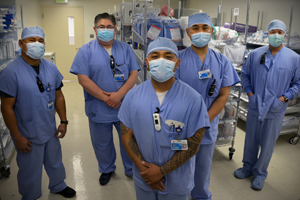 Standard systems and protocols went out the window out of necessity once the COVID-19 pandemic was in full swing. To quickly meet the El Camino Health's growing personal protection equipment (PPE) and medical supply needs, the materials management team shifted from an automated inventory management system to a labor intensive hands-on approach that involved working directly with vendors through any means possible to acquire whatever necessities they could.
"Normally when there is a disaster, our vendors redistribute their supplies from those regions not affected to those regions that are affected, but this wasn't just a local, regional or even national disaster, it was a global disaster," explains Manny Hernandez, supply chain manager at El Camino Health. The global need of PPE supplies was almost instant and our vendors struggled to meet our demands and the demand of any of their customers. "Luckily, our backup disaster supply of PPE bought us time to plan and change our processes to address the pandemic. Those backup supplies were able to carry us through the initial impact and we never ran out of any product."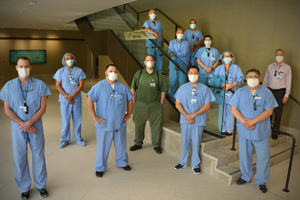 The materials management team began tracking the spread of COVID-19 in mid-February to monitor the impact it was going to have on the organization's supply chain. It was quickly apparent the current supply chain and ordering process needed to be drastically redesigned to meet the increased and immediate demand. As PPE became more difficult to obtain globally, the team worked closely with nursing administration and infection prevention to review and approve substitute products. With the purchasing department's help, new vendors were quickly vetted and needed products began flowing into the hospital. It is the team's responsibility to make sure staff, doctors and nurses have the medical supplies and PPE they need to safely care for patients. Running out of supplies was not an option.
Before the pandemic, the materials management team used an automated technology system to track, order and receive inventory in real time. This just-in-time approach for inventory management meant the team coordinated deliveries three times each week to replenish a three-day hospital supply. However, after observing how COVID-19 impacted the rest of the world in terms of these valuable supplies, they knew they needed to jump into action to ensure there would always be enough inventory to meet what might be a surge in patients.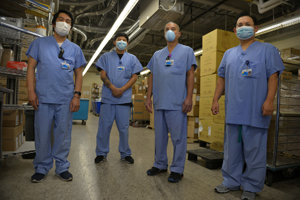 The materials management team shifted to manually ordering supplies and more frequent re-stocking, including replenishing critical departments, like emergency rooms and critical care unit, multiple times each day. The team began reporting supply inventory updates to the command center twice daily and orders needed to be manually received, counted, picked and delivered to each department to ensure supplies were getting to the critical areas as they could no longer rely on automation to manage the demand.
"The volume of PPE inventory that we were receiving increased exponentially," says Manny. "Our team had to work long hours to make sure each department had what they needed and that nothing was being wasted. We are just now starting to see the demand slow down."
In addition to creatively restructuring how the team procured supplies, the hospital also received an abundance of donations from the community, including face masks, hospital gowns and gloves. Apple, Ford Motors and the general public donated face shields and local students also made shields using 3D printers.
"Face shields were very hard to locate and everywhere we looked, people were out of them," explains Manny. "The El Camino Health Foundation did an incredible job getting us donations and the community really came through for the hospital."
The team of 35 people staffed across both hospital campuses in Los Gatos and Mountain View needed to adapt quickly to working in new roles, longer hours and under a lot of pressure.
"It was important that we worked together as a team and supported each other more than we ever have," shares Manny. "While we aren't directly on the front lines, our work puts us right behind the people who are. It is really rewarding to support the nurses and clinical staff and to know that we have a small part in their safety and the health of our patients."
The materials management team continues to order supplies to meet the existing need and prepare for any future waves or surges. The goal is to maintain the county's mandated 30-day supply of all materials and equipment possibly needed while the threat of COVID-19 remains.
The team is constantly monitoring supplies to ensure there are appropriate levels of PPE to keep staff, patients, and visitors safe.