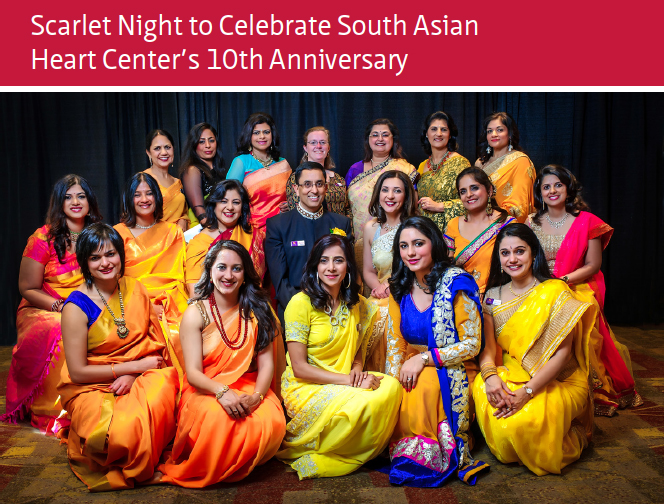 Scarlet Night, an affair of the heart, the South Asian Heart Center's annual gala benefit, will be held on March 19, 2016 at Santa Clara Convention Center. The evening is dedicated to saving lives through the prevention of heart attacks and diabetes that disproportionately affect people of South Asian descent. Since its inception in 2006, the Center has screened nearly 6,000 participants, educated more than 1,500 physicians on the epidemiology of coronary artery disease and diabetes in the population, and published its findings in peer-reviewed journals. The Center's proven program has resulted in healthier lifestyle behaviors in the community, and reduced heart disease and diabetes risk in its program participants.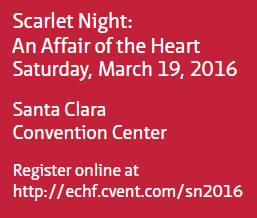 Gala chairs Sujatha Suresh and Sharvari Dixit, PhD, promise an extra special occasion as the South Asian Heart Center celebrates its 10th anniversary milestone. The theme color this year is red. Proceeds will benefit the Center's expansion to additional locations in the Bay Area in order to make its services more accessible to those who may not be aware of their potential risk. The Center's goal is to reach 8,500 participants by June 2017 and to double its volume to 2,000 per year. In addition to the flagship office at El Camino Hospital in Mountain View, the South Asian Heart Center has already established a presence at the India Community Center in Milpitas and has opened a branch near El Camino Hospital Los Gatos. Fremont will be the location of the fourth site, scheduled to open in spring 2016.
Online registration is available. For additional information about Scarlet Night, please contact Nivisha Mehta, Philanthropy Officer, at nivisha@southasianheartcenter.org.