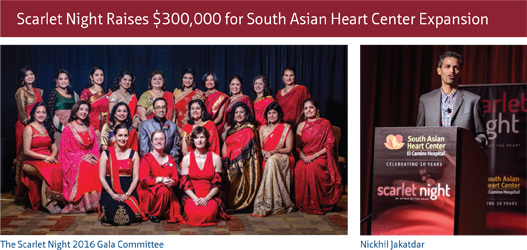 More than 560 supporters wearing various hues of red celebrated the South Asian Heart Center's 10th anniversary at Scarlet Night, An Affair of the Heart, on March 19, 2016. Proceeds from the glittering gala will benefit the Center's expansion to more locations in the Bay Area, with the aim of making its pioneering screening, lifestyle modification and coaching program more easily accessible to a population at particularly high risk for heart disease and diabetes.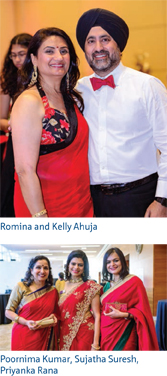 To date, 6,300 participants have gone through the Center's Aim to Prevent Program, and more than 50,000 have been educated about their community's unique risk factors. According to Executive Director Ashish Mathur, the Center's participant base has grown 40 percent in the last 17 months, since the opening of satellites in Los Gatos and Milpitas. The Center plans to open an additional office in Fremont later this year and has announced a partnership with the Jain organization as their collaborator for the Jain Wellness for Life Initiative, which is being launched across all 71 North American chapters.
Gala attendees heard from keynote speaker Ronesh Sinha, MD, a Silicon Valley internist who leads corporate wellness services at Palo Alto Medical Foundation and from grateful participant Nickhil Jakatdar. The 43-year-old CEO and founder of Vuclip thought he was not a candidate for heart disease because he exercised regularly and did not smoke. His advanced test results indicated otherwise. "It's a very big wakeup call when you realize that your condition is nowhere close to where you thought it was," he told the audience.
The gala was chaired by Sujatha Suresh and Sharvari Dixit, PhD. It featured a live auction, heart healthy banquet catered by Chef Vittal Shetty, and entertainment by UC Berkeley's Dil Se musical group, a dance performance by Bombay Jam, and singing by Komal Rizvi. Dancing, casino and a poker tournament followed the dinner and program.