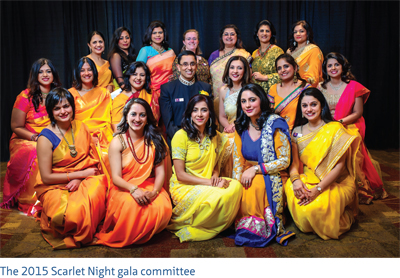 More than 550 philanthropists, physicians, business professionals and community leaders attended the South Asian Heart Center's 7th annual Scarlet Night gala on March 14. Proceeds from the evening combined with leadership gifts already in place, have provided more than $500,000 to fund the Center's growth."
We recently opened centers in Milpitas and Los Gatos and will soon be expanding into Fremont and San Jose," Executive Director Ashish Mathur told the assembled guests. "We have screened over 5,200 people since 2006 and trained 1,200 physicians about the unique risk factors and lifestyle patterns of the South Asian community. We must scale our efforts and help educate the growing South Asian diaspora. Thanks to El Camino Hospital, every penny of the funds raised today will go to our expansion efforts." With five sites, the Center will be able to triple the number of participants it serves within three years.
Keynote speaker Raghava KK, an artist who has appeared on TED talks, spoke about the need to be present in the moment and utilize the gift of vitality to live every moment well. His message went to the core of the South Asian Heart Center's mission: to enhance mindfulness about our stresses, risks, and choices, allowing each of us to make the lifestyle changes that will lead to better health. The audience, many attired in mimosa, the theme color for the evening, donated generously to the live auction and Tops Hearts fund- in-need appeal. The evening also featured dance performances by Farah Yasmen Shaikh and a high energy show by Bombay Jam.