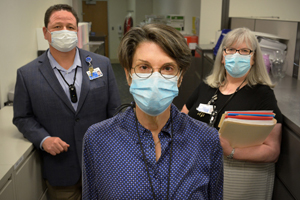 A quick shift in focus for both the patient care resources and human resources teams was needed during the COVID-19 pandemic in order to address evolving safety challenges requiring fast action. There was a crucial need for the patient care resources team to hire and train non-clinical individuals with strong customer service skills to screen people for symptoms at the entrances to El Camino Health hospitals. The human resources team also needed to reallocate current staff across the organization effectively and efficiently to ensure staffing to meet demand in certain departments and support specialized sanitation efforts to enhance safety.
"We had a number of departments not seeing patients and others with a great need for additional help," says Beth Shafran-Mukai, director of human resources operations. "The team worked together to support flexibility; having the right people in the right place at the right time to meet the needs of our patients."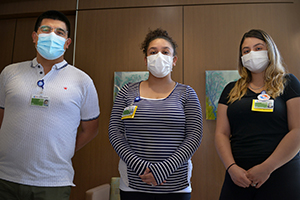 The first line of defense against COVID-19 is to make sure that people entering the hospital don't exhibit symptoms of COVID-19 or haven't been in contact with anyone who has COVID-19. This is the primary responsibility of the newly formed team of screeners stationed at both campuses. During the pandemic, if an individual answered yes to any screening questions, registered a fever or had a cough, screeners asked them to move to a designated area and a member of the infection prevention team or a nurse would further screen those individuals.
"The screeners are the first people patients and visitors come into contact with when they come to the hospital and we want that experience to be as positive as possible, given the situation," explains Stefanie Shelby, manager of patient care resources staffing office.
Meanwhile during the height of the pandemic, elective procedures and surgeries were put on hold, causing a ripple effect in terms of workflow and employee scheduling so the human resources team created a temporary labor pool to direct resources appropriately.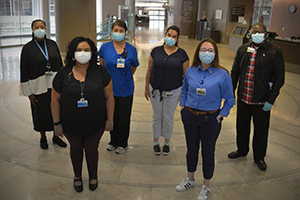 "The labor pool was created to provide meaningful work for impacted employees who did not have work to do," explains Beth. "Each day, managers told us what was needed for staffing for the next day and the labor pool assigned workers accordingly."
The labor pool staff organized systems and procedures to support operations during command center operations; helped maintain heightened levels of cleanliness at the hospital, including sanitizing high touch areas like handrails, delivering personal protection equipment and supplies to units, and assembling face shields.
"Our goal was to respond to the emerging staffing needs identified by manager, make meaningful work available to as many people as possible and to distribute the work equitably," says Beth. Emergency situations can certainly bring out the best in people. The human resources team was inspired by those individuals who embraced these new challenges every day and modeled generosity in offering to do whatever they could to help co-workers and patients.
"No one was anticipating this situation to go on for as long as it did, but we are happy to be welcoming all patients back to our hospitals." explains Beth. "Staff is here and enthusiastic to welcome patients back. We're ready to return to our usual work of taking care of a variety of healthcare conditions and keeping our community in great shape."
El Camino Health is pleased to see more patients returning to the hospital every day and the patient care resources and human resources teams continue their diligent work to ensure a safe environment through vigilant screenings and additional procedures designed to prevent transmission of the virus.