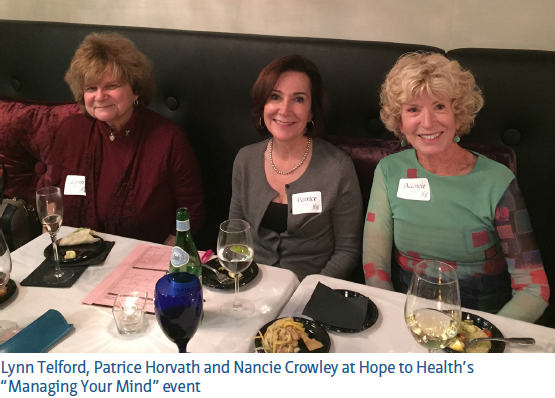 Hope to Health, El Camino Hospital Foundation's women's giving circle, hosted "Managing Your Mind," a program about staying mentally fit as we age. Twenty-five women attended the well-received event at The Voya Restaurant in Mountain View on November 10. Kathy Taylor, RN, a therapist with the Older Adults Transitions (OATS) program at El Camino Hospital talked about the brain's ability to restructure itself through training and practice, emphasizing the importance of doing something new every day. She recommended staying active, exercising, reading and writing regularly, and playing math or word games on a daily basis. She also spoke about the importance of staying socially active, eating healthfully, maintaining sufficient hydration, and getting a good night's sleep.​
During breast cancer awareness month in October, Hope to Health members staffed informational tables outside the cafeterias on the Mountain View and Los Gatos campuses. They encouraged hospital employees and visitors to take the necessary steps to detect the disease early, when it is most treatable, and distributed pink giveaway items and health information to the women who stopped by. Anyone wearing pink was also entered into a special raffle.
Hope to Health's Los Gatos and Mountain View chapters have now merged to form one combined organization that supports women's health programs across the El Camino Hospital enterprise. 
"Over a decade the philanthropy circle has contributed more than $500,000 to such programs as gynecological care for underserved women, El Camino Hospital's menopause and pelvic health programs, and outpatient mental health care for adolescents, older adults, and women with postpartum depression," says Margaret Capriles, Hope to Health President.
New members are always welcome. Membership starts at $1,000 per year, and includes voting privileges and invitations to fun events throughout the year. For more information, please contact Kirsten Krimsley, Manager of Special Events, at kirsten_krimsley@elcaminohealth.org or 650-988-4189.