Pharmacy Residency Program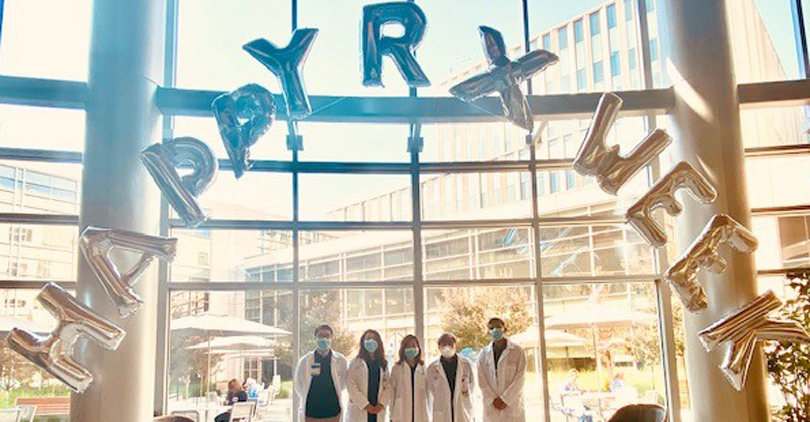 About the PGY1 Pharmacy Residency Program
El Camino Health's one-year postgraduate (PGY1) Pharmacy Practice Residency is designed to develop leadership skills and provide residents with training and experience in various areas of clinical practice. The program's purpose is to build on a Doctor of Pharmacy (Pharm.D.) education and to contribute to:
Development of clinical pharmacists responsible for medication-related care of patients with a wide range of conditions
Eligibility for board certification
Eligibility for postgraduate year two (PGY2) pharmacy residency training
The goals, objectives, and evaluation process will be consistent with those established by ASHP for pharmacy practice residency training.
Core Learning Experiences:
Orientation/Staffing (4 weeks each)
Internal Medicine (6 weeks)
Critical Care (6 weeks)
Oncology- Inpatient and Outpatient (6 weeks)
Antimicrobial Stewardship/Infectious Disease (6 weeks)
Management and Leadership (4 weeks)
Preceptorship (4-6 weeks: Will be assigned to a learning experience when there is a student)
Elective Learning Experiences (subject to change upon evaluation of program after first year):
Pharmacy Informatics (4 weeks)
Medication Safety (4 weeks)
Neonatology (4 weeks)
Emergency Medicine (6 weeks)
Longitudinal Rotations:
Drug Information and Formulary Management
Staffing (every other weekend)
Residency Project
Please note: Although we are a multisystem organization, this residency program is designed for El Camino Health Mountain View campus.
Get a virtual tour of El Camino Health
View highlights of our 2021 Pharmacy Week
Qualifications
Interested applicants must comply with the following criteria in order to qualify for acceptance into our PGY1 residency program:
The applicant must have a Doctorate of Pharmacy (Pharm.D) degree from an ACPE accredited pharmacy.
The applicant must be competent in all areas of clinical pharmacology, infectious diseases, and pharmacokinetics prior to entering the program.
The applicant must be eligible for pharmacist licensure in the state of California.
The applicant must pass California State Board examination within three months upon start of the program.
The applicant must provide letters of recommendation from clinical faculty, preceptors, and/or former employers.
The applicant must participate in an interview panel with residency leaders and mentors.
The applicant must be committed to complete the 12-month duration of the program.
Salary and Benefits
Estimated Stipend: $64,480
Resident receives health insurance, limited paid vacation, and selected professional meeting registration reimbursement
Number of Positions Available
2 Resident positions available yearly
Start Date
End of June - Early July, 2024
Application Process
El Camino Health participates in the ASHP Resident Matching Program. All applicants must submit their applications to the program via PhORCAS.
National Matching Service Code: 92962
The following documents are required of all interested applicants:
Application with letter of intent
Curriculum Vitae/Resume
Official transcripts
A sample of independently written work or a process improvement plan that highlights your efforts. Must include citation of primary literature and evidence-based medicine.
Three references from clinical faculty, preceptors, and/or former employers. References should describe specific areas of the candidate:

Organization
Communication skills both verbal and written
Efficiency
Ability to accept professional feedback
Ability to work independently and in a team environment

Selected candidates will be invited for panel interview and will be asked to present on a clinical pharmacy topic of choice limited to 10-15 minutes (with Q & A).

Please note: All materials are submitted via PhORCAS with a due date for the applications being January 2, 2024.

Thank you for your interest in El Camino Health PGY1 Residency Program!

About El Camino Health and Pharmacy Services

El Camino Health provides a personalized healthcare experience at two non-profit acute care hospitals in Los Gatos and Mountain View and at primary care, multi-specialty care, and urgent care locations across Santa Clara County. For nearly sixty years, our organization has grown to meet the needs of individuals and communities it serves. Bringing together the best in new technology and advanced medicine, the network of nationally recognized physicians and care teams deliver high-quality, compassionate care. Key medical specialties include heart and vascular, cancer and lifestyle medicine. Our hospitals have earned numerous awards for clinical excellence, such as a 5-Star Overall Hospital Quality Rating from Centers for Medicare & Medicaid Services (CMS), and nursing care, including three consecutive American Nurses Credentialing Center Magnet Recognition for Nursing Care. Learn more about our services and our honors and awards.

The Department of Pharmacy Services and its pharmacists are an integral component in providing progressive pharmaceutical care in collaboration with the rest of the healthcare system entities. We offer a variety of specialty clinical programs including inpatient and outpatient oncology services, a robust antimicrobial stewardship program, pain-management consultation services, medication reconciliation and an outpatient pharmacy that supports a meds-to-beds program. The pharmacy department also provides investigational drug services to external sponsors for clinical trials. Many of our clinical pharmacists are board-certified or have undergone residencies, including PGY2 training in oncology (inpatient and outpatient), pain management, antimicrobial stewardship and neonatology/pediatrics. Many of our pharmacy technicians are highly-experienced with PTCB certifications.

Our inpatient pharmacy operates 24-hours a day, 7-day a week, 365 days a year to ensure continuity of care for patients in our hospitals. Daily activities include (but are not limited to) participating in rounds, performing therapeutic drug monitoring, providing drug information to physicians, nurses and other healthcare providers, managing investigational drugs, and providing clinical recommendations based of pharmacy driven protocols and guidelines. Some of our Pharmacy Driving protocols include:

Aminoglycoside Dosing and Monitoring
Vancomycin Dosing and Monitoring (AUC Based)
Antibiotic Dosing
Non-Antibiotic Renal Dosing
IV to PO Conversion of Selected Antibiotics
Extended Infusion of Piperacillin/Tazobactam
Warfarin Oversight Protocol

Our hospitals serve as a rotation site for pharmacy students of the University Of California San Francisco School Of Pharmacy and the University of the Pacific School of Pharmacy. They are also an externship site for Mission College Pharmacy Technician Program and Foothill College Pharmacy Technician Program.

About Our Residents/Residency Director/Preceptors

Residency Program Director - Senior Pharmacy Clinical Manager
Assistant Clinical Professor, UCSF School of Pharmacy
Mojgan Nodoushani Pharm.D.
Phone: 650-940-7142 | Email: mojgan_nodoushani@elcaminohealth.org | Fax: 650-966-9201

Mojgan Nodoushani has been an advocate for clinical pharmacy programs since she received her doctorate of pharmacy degree. Mojgan has been the Pharmacy Clinical Manager at El Camino Health since January 2007. Prior to her joining the El Camino Inpatient Pharmacy team, she did clinical pharmacy work at Washington Hospital and was the Pharmacy Clinical Coordinator at Community Hospital of Los Gatos from 2002-2006. During her time at El Camino Health, Mojgan has established many pharmacy driven protocols including a new Antimicrobial Stewardship Program. Her most recent success is the launch of the inaugural Pharmacy Residency Program in which we currently have two residents working under her preceptorship. Mojgan fondly recalls her PGY1 Pharmacy Residency Program at Hartford Hospital in CT and often shares her stories of having to sleep overnight at the Hospital to cover multiple shifts including graveyard during the cold east coast winter storms and closed icy roads! Her preceptors gave her an eye-opening experience during her residency and she wanted to make sure to return that experience to her residents. As a special treat for the incoming residents, there will be an opportunity for them to meet with a renowned senior Residency Program Director (Mojgan's RPD from Hartford Hospital) for some encouragement and gain words of wisdom as they embark on their journey! In her spare time, Mojgan likes to cook (she has won a heart healthy food competition at El Camino Health in the past), and likes spending time with her family. Mojgan is happy to live and work at the El Camino Health District Community.

Current Residents

Meet Theresa Doan and Crystal Chung, El Camino Health's current residents who both started at the end of June 2023. Please feel free to reach out to them to see what they like best about being a part of the El Camino Health's team!

Theresa Doan - PGY1 Resident
Pharm. D. | Chapman University | School of Pharmacy
Orange, CA
Email: Theresa_Doan@elcaminohealth.org

Theresa was born and raised in San Jose, CA. She then moved to Southern California to complete her Bachelor of Science degree in Biological Sciences at the University of California, Irvine. She completed her PharmD at Chapman University, School of Pharmacy. She is currently interested in infectious diseases and pain management. Theresa is excited about her move back home with her friends and family. During her free time, she likes to watch shows (Korean dramas and anime), read, and draw (her main focus at the moment are sticker designs)! Theresa also enjoys trying new food spots and going to concerts with friends!

Crystal Chung - PGY1 Resident
Pharm. D. | University of California, San Francisco (UCSF) School of Pharmacy
San Francisco, CA
Email: Crystal_Chung@elcaminohealth.org

Crystal was born and raised in San Francisco, but left the foggy city briefly for the sun at the University of California, Los Angeles (go bruins!), where she graduated with a Bachelor of Science degree in Molecular, Cell, and Developmental Biology and a minor in Food Studies. She returned to San Francisco to complete her PharmD at the University of California, San Francisco. During pharmacy school, Crystal developed her current interests in oncology and infectious diseases. She hopes to continue building upon these areas while exploring others, including medication safety. Crystal is excited to return to the temperate weather and diverse food scene in the Bay Area. Outside of pharmacy, you can typically find Crystal logging runs and lifting sessions on Strava or reviewing food spots on Yelp, but during the holidays you can find her baking cookie boxes for family and friends!

Residency Preceptors

Samantha Chang-Graham, Pharm.D., BCPPS
Clinical Pharmacist Specialist | Neonatology
Pharmacy School | Skaggs School of Pharmacy & Pharmaceutical Sciences
Pharmacy Residency
PGY1- Loma Linda University
PGY2- Loma Linda University

Li Sha Deng, Pharm. D., BCPS
Clinical Pharmacist
Pharmacy School | University of San Francisco, School of Pharmacy
Pharmacy Residency| UC San Diego Health, San Diego, CA

Jen Huang, Pharm.D., BCPS
Director of Pharmacy
Pharmacy School | Massachusetts College of Pharmacy and Allied Health Sciences
Pharmacy Residency | PGY1 Pharmacy Management Boston University

Jonathan Johansen, Pharm.D.
Clinical Pharmacist
Pharmacy School | University of MT Skagg's School of Pharmacy
Pharmacy Residency | PGY1 Tripler Army Medical Center, Honolulu, HI

Amy Lam, Pharm.D., BCPS
Clinical Pharmacist
Pharmacy School | University of the Pacific

Grace Liao, Pharm.D., CPHIMS
Pharmacy System Specialist | Informatics
Pharmacy School | University of the Pacific
Pharmacy Residency | PGY1 California Pacific Medical Center

Lynn Nguyen, Pharm.D.
Clinical Pharmacy Specialist | Antimicrobial Stewardship
Pharmacy School | The University of Texas at Austin
Pharmacy Residency
PGY1 Pharmacy Practice - VA San Diego Healthcare System, San Diego, CA
PGY2 Infectious Diseases - UCSF, San Francisco, CA

Michelle O'Brien, Pharm. D.
Clinical Pharmacist
Pharmacy School | Northeastern University (Boston, MA)

Gary Ogawa, Pharm. D.
Clinical Pharmacy Specialist | Oncology
Pharmacy School | USC Pharmacy
Pharmacy Residency | PGY1 UCSF

An Pham, Pharm.D.
Clinical Pharmacist
Pharmacy School | Midwestern University, Downers Grove, Illinois
Pharmacy Residency | Palomar Health, San Diego, CA

Hanady Sharabash, Pharm.D., BCCCP
Clinical Pharmacist
Pharmacy School | University of Illinois at Chicago, College of Pharmacy
Pharmacy Residency | University of Michigan Hospitals & Health Centers Ann Arbor

Michelle Shen, Pharm.D., BCOP
Clinical Pharmacy Specialist | Oncology |Pharmacist in Charge Cancer Center |UCSF Assistant Clinical Professor
Pharmacy School | University of California San Francisco
Pharmacy Residency
PGY1 General Residency - UCSF
PGY2 Oncology Specialty - UCSF