June 29, 2017 – The El Camino Hospital Board of Directors has approved $3.28 million to be allocated to 41 health initiatives in fiscal year 2018. This investment represents an increase in the total number of organizations to receive funding through the hospital's Community Benefit Grant Program.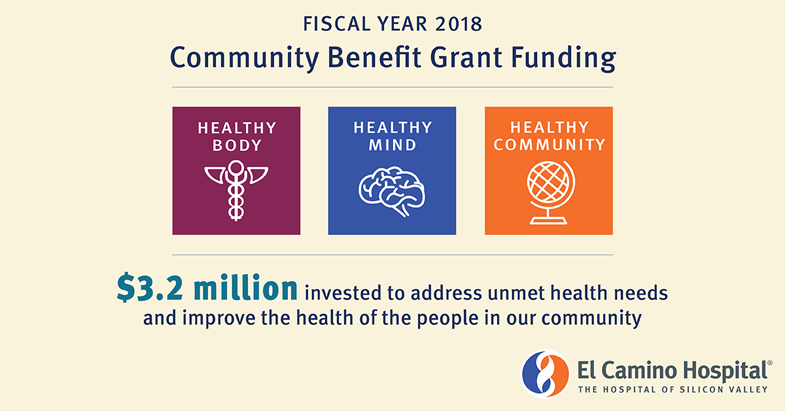 Through the El Camino Hospital Benefit Community Grant Program, the hospital is collaborating with area organizations to create Healthy Bodies, Healthy Minds, and Healthy Communities. In the past five years, the program has invested more than $10 million to vital community-based health improvement projects. El Camino Hospital's total Community Benefit contribution, including the Grant Program, subsidized health services, financial assistance and more, was nearly $53 million in fiscal year 2016.
"El Camino Hospital is committed to partnering with local non-profits to significantly impact the health needs of the communities we serve in Santa Clara County," said Barbara Avery, director of community benefit, El Camino Hospital. "The Hospital Board seeks to serve vulnerable community members by expanding direct healthcare services and innovative prevention programs in 2018."
The Community Benefit Grant Program will allocate funding to programs in these key areas:
Healthy Body grants include overall health and wellness initiatives, school nurse programs, dental screenings, school-based nutrition and physical activity programs, diabetes screenings, treatment and education, asthma management for children, and medical support for at-risk populations.
Healthy Mind programs include school-based mental health counseling, support and counseling for foster, abused and other at-risk youth, counseling for adults with developmental disabilities, initiatives to reduce depression and isolation in seniors, and treatment for those with severe mental health conditions.
Healthy Community grants include awareness and testing for pre-diabetes, a bike ride and safety program for underserved communities, cancer support programs, home gardens program in affordable housing developments, domestic violence services, and basic support assistance for low-income community members.
Learn more about El Camino Hospital's Community Benefit Grant Program and key funding priority areas.