Scheduled to open by January 2019, the new 54,000 square foot, two-story mental health facility will replace the aging behavioral health inpatient unit that dates to the hospital's founding. Proudly and visibly integrated into the Mountain View campus, the building's design reflects the hospital's unique approach to mental health care: patient and family-centered with the adaptability to respond to the changing needs of the community. It will have 36 private patient rooms, including a dedicated women's unit. The second floor will house the outpatient addiction treatment program and the dual diagnosis program (for patients with both an addiction and a mental health condition), as well as the partial hospitalization program for patients transitioning from inpatient to outpatient care, and the continuing care day treatment program for adults with severe, persistent psychiatric illness. When it is completed, El Camino Hospital will be one of only two hospitals in the nation to provide specialized inpatient care for women with perinatal mood disorders/postpartum depression. The increased number of beds will help to alleviate a dire regional shortage, ensuring more adult residents of our community can receive treatment in their home county.
To date, generous donors have contributed nearly $6.5 million to El Camino Hospital Foundation's Fulfilling the Promise fundraising initiative for mental health and addiction services at El Camino Hospital. Their gifts are supporting the expansion of specialty outpatient programs for youth and young adults, women, seniors, and people with addictions, as well as the construction of the new inpatient facility.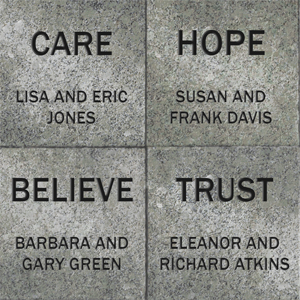 Each 8 x 8 inch paver along the Path of Hope will have the donor's name plus a unique word of encouragement. By inscribing a brick, you can support those on the most challenging journey to mental wellness. Your message of strength and courage today will inspire patients, families, and staff, helping to fulfill the promise for a better tomorrow.
El Camino Hospital Foundation invites you to help fulfill the promise by making a donation of $2,500 and inscribing a brick along the Path of Hope into the new mental health pavilion. For more information, please call 650-988-7849.