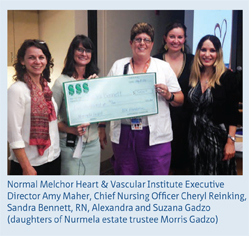 Two nurses received grants from El Camino Hospital Foundation to improve patient care during El Camino Hospital's Nursing Excellence Week in May.
Sandra Bennett, RN, accepted the first Nurmela Nursing Excellence Award, which was created with a legacy gift to El Camino Hospital Foundation from Los Altos resident George Nurmela to advance the work of the Norma Melchor Heart & Vascular Institute. The $5,000 grant will be used to provide advanced life support (CSU-ALS) training for open heart nurses so they can better assess and intervene when cardiac surgery patients deteriorate or are in crisis. It will cover the certification of two El Camino Hospital registered nurses as trainers, who will then teach the 26 nurses currently on staff plus an anticipated 25 additional new nurses.
Jennifer Meaney, RN received the Diana K. Russell Leadership Award, an endowment created by Dr. Tej Singh and Dr. Simrahn Singh to honor former El Camino Hospital Chief Nursing Officer Diana Russell upon her retirement in 2013. They cited Russell's vision in nursing program development and support of exemplary scientific advances in health care. The annual grants are used for education or research that will advance one or more of El Camino Hospital's nursing strategic goals; enhance personal leadership skills through training; or develop a project that displays leadership, caring, and dedication to evidence based practice. Meaney will use the $1,000 grant to educate nurses on more contemporary methods of managing diabetes, with the goal of reducing the incidence of hypoglycemia and hyperglycemia.
If you would like to learn about the advantages of making a gift to El Camino Hospital through your estate, please contact Foundation President Jodi Barnard at 650-940-7154 or jodi.barnard@elcaminohospital.org.