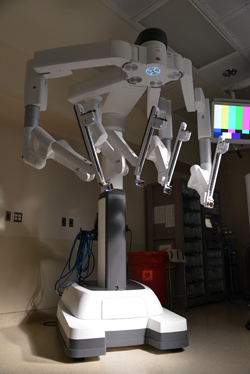 Robotic-assisted surgery is a type of minimally invasive surgery that allows surgeons to perform highly complex surgical procedures through tiny incisions, with enhanced accuracy and precision. Surgeons at El Camino Hospital specialize in robotic-assisted procedures for gynecologic, prostate, weight loss and general surgery. Depending on the type of surgery you need, a robotic-assisted procedure may be an option for you.

The latest innovation in robotic-assisted surgery is the da Vinci Xi robotic platform with table motion. The new robotic platform gives the surgeon better access to the patient from any angle, providing more mobility and 3D HD vision for crystal clear definition of the surgical field. Table motion allows the surgeon to move the operating table, instead of shifting the patient mid-surgery. These advances have the capability to improve patient safety and surgical outcomes. Patients also benefit from less scarring and a shorter recovery time.

The experienced surgeons at El Camino Hospital perform 875 robotic-assisted surgeries per year, and have performed over 5,000 surgeries since the inception of the program – more than any other community hospital in California.

If you're facing surgery, ask your doctor if robotic-assisted surgery is right for you. Learn more about our program.

This article first appeared in the March 2016 edition of the HealthPerks newsletter. It was modified in May 2016 to update the number of surgeries to 5,000.