Skip
Ingredients: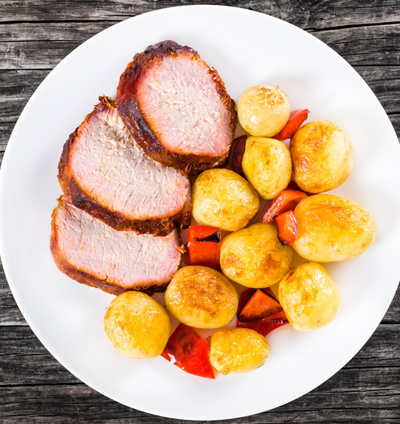 Cooking spray
1 (about 1 ½-pound) pork tenderloin, trimmed
1/8 tsp. salt
2 Tbsp. hoisin sauce
2 Tbsp. ketchup
2 Tbsp. low-sodium soy sauce
1 tsp. chili garlic sauce
2 garlic cloves, crushed
1 ½ tsp. minced peeled fresh ginger
Chopped cilantro (optional)
Directions:
Preheat oven to 425 degrees
Heat a large, ovenproof skillet coated with cooking spray over medium-high heat. Sprinkle with salt. Add pork to pan and cook 2 minutes on all sides or until browned. Remove from heat.
Combine hoisin, ketchup, soy sauce, chili garlic sauce, garlic cloves, and ginger in a small bowl. Spread the mixture over the tenderloin.
Insert meat thermometer into the thickest portion of tenderloin. Bake at 425 degrees for approx. 15 minutes or until thermometer registers 160 degrees. Place pork on a platter and let stand for 5 minutes. Cut and garnish with cilantro.
This article first appeared in the June 2017 edition of the HealthPerks newsletter.