Ingredients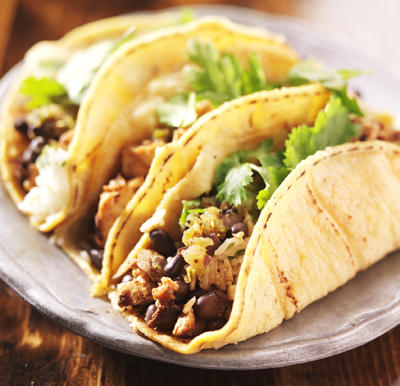 1/4 cup olive oil
1 small onion, cut into strips
1 small red bell pepper, cut into strips
1 small green bell pepper, cut into strips
1 tablespoon garlic, chopped
2 large tomatoes, medium diced
1 15-ounce can black beans, rinsed and drained
1 cup brown rice, cooked
8 corn tortillas
2 tablespoons lime juice
2 cups shredded green cabbage
1/2 cup cilantro, chopped
2 avocados, sliced
8 ounces Pico de Gallo (fresh salsa)
4 ounces feta cheese or queso cotija, crumbled
Instructions
In large skillet add olive oil, sauté onions, garlic and peppers for 2 minutes.
Add tomatoes, black beans and rice.
Cook until the rice is thoroughly heated. Keep warm.
In a separate bowl combine the lime juice, cabbage and cilantro.
Place to the side to marinate.
Heat corn tortillas in a skillet or microwave, wrap in towels or use a tortilla warmer and hold until time to serve.
To assemble, place taco filling in the tortillas then add the slaw, topped with avocado, salsa and cheese. Serve 2 per person.
This article first appeared in the February 2017 edition of the HealthPerks newsletter.