請點擊此轉換成中文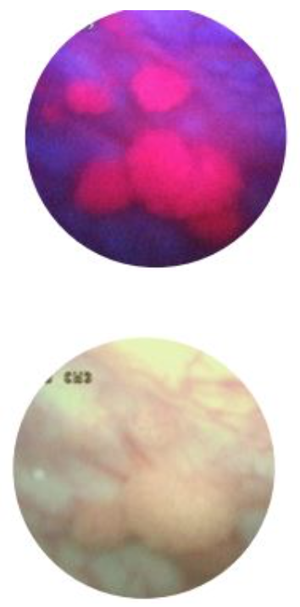 Bladder cancer is the most common cancer of the urinary tract, affecting more than 70,000 Americans each year. Most have non-muscle-invasive bladder cancer (NMIBC), which means the cancer has not yet spread to the muscle. The current treatment of tumor removal has a recurrence rate up to 70-80%, and a subsequent chance of disease progression. A new technology, known as Blue Light cystoscopy, can make these tumors easier to see during surgery, so that doctors can do a better job of removing them. This new technology is now available at El Camino Hospital's two campuses in Los Gatos and Mountain View.
Cystoscopy is the procedure doctors use to look inside your bladder to diagnose and remove bladder cancer tumors. This procedure uses a cystoscope, a tube-like telescope that is inserted into the bladder through the urethra (the tube through which urine leaves your body). The doctor is able to insert instruments through the tube during the procedure. Cysview® is a photosensitizing optical agent that is inserted through a catheter into the bladder one hour prior to the procedure, and is absorbed by cancerous tissue. It causes tumors to show up as bright pink under blue light, making them much easier to see.
Your doctor, during the procedure, will toggle back and forth between white light and blue light. The standard white light cystoscopy is used to help find the cause of symptoms, to treat or monitor conditions. Your doctor will inspect the bladder lining very closely for any abnormal growths or suspicious areas. During this inspection suspicious tumors are further inspected using blue light which makes cancerous tumors more visible and may highlight additional tumors. El Camino Hospital is using this technology, which can mean more complete resection (tumor removal).
Because of its success in clinical trials1,2, blue light technology is now included in the joint guidelines of the American Urology Association and Society of Urologic Oncology. The guidelines recommend that patients with NMIBC should be offered blue light cystoscopy at the time of transurethral resection of bladder tumor (TURBT) to increase tumor detection and decrease recurrence. This state of the art technology provides more complete resection, that means a decreased chance of recurrence, which could translate into lives saved and improved quality of life.
More information is available on the El Camino Hospital website. To make an appointment call the Cancer Center at 650-988-8338. To contact radiation oncology, please call 650-940-7280.
Stenzl A, Burger M, Fradet Y, et al. Hexaminolevulinate guided fluorescence cystoscopy reduces recurrence in patients with nonmuscle invasive bladder cancer. J Urol. 2010;184(5):1907-1913.
Fradet Y, Grossman HB, Gomella L, et al. A comparison of hexaminolevulinate fluorescence cystoscopy and white light cystoscopy for the detection of carcinoma in situ in patients with bladder cancer: a phase III, multicenter study. J Urol. 2007;178(1):68-73
This article appeared in the Spring 2018 issue of Chinese Health Initiative Wellness eNewsletter. Learn more about the Chinese Health Initiative.