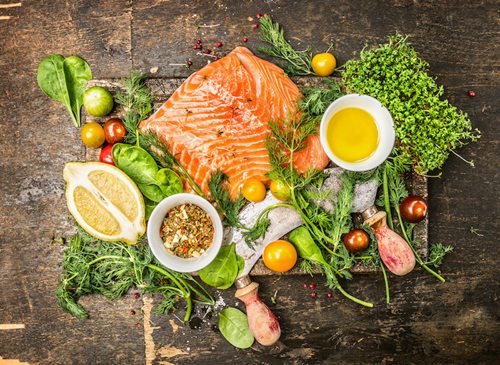 1¼ pounds Salmon
10 asparagus spears
6 ounces butter lettuce and radicchio mix (or other mixed greens)
Mini Heirloom tomatoes (or regular cherry tomatoes)
1 small avocado
1 tablespoon butter
1 tablespoon olive oil
3 pinches salt
3 pinches pepper
Directions
Set oven to high broil.
Place butter on top of salmon and sprinkle with two pinches salt and pepper.
Broil salmon on high in the middle of oven for about 20 to 25 minutes or until cooked.
Wash asparagus and remove ends.
Sauté asparagus in 1 tablespoon olive oil with one pinch of salt and pepper on medium high heat until cooked el dente.
Remove pit from avocado and cut into one inch squares.
Slice tomatoes into quarters.
Mix greens, with avocado and tomatoes in medium bowl and toss with dressing (see below) and serve with salmon and asparagus spears.
Dijon Dill Salad Dressing
4 tablespoons olive oil
1 ½ tablespoons white balsamic vinegar
½ tablespoon Dijon mustard
½ teaspoon dextrose
1 pinch of salt
1 pinch of pepper
2 pinches dried dill
Directions
Mix oil with vinegar and mustard. Add other ingredients and mix.

This recipe first appeared in the March 2016 edition of the HealthPerks newsletter.