Skip
Ingredients: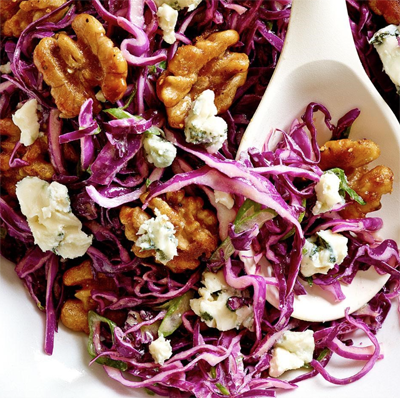 Vinaigrette

1 Tbsp. crumbled blue cheese
¼ cup extra-virgin olive oil
3 Tbsp. red-wine vinegar
1 Tbsp. Dijon mustard
¼ tsp. salt
¼ tsp. freshly ground pepper

Walnuts

1 Tbsp. extra-virgin olive oil
1 tsp. butter
1 cup walnuts
¼ tsp. freshly ground pepper
2 Tbsp. pure maple syrup

Salad

4 cups very thinly sliced red cabbage
4 cups very thinly sliced green cabbage
3 scallions, thinly sliced
1/3 cup crumbled blue cheese
Directions:
Vinaigrette: Combine 1 Tbsp. blue cheese, ¼ cup oil vinegar, mustard, salt and pepper in a food processor or blender; process until creamy.
Walnuts: Place a piece of parchment or wax paper near the stove. Heat 1 Tbsp. oil and butter in a medium skillet over medium heat. Add walnuts and cook, stirring, for 2 minutes. Add salt and pepper and drizzle with maple syrup. Cook, stirring, until the nuts are well coated and have begun to caramelize, 3 to 5 minutes. Transfer to the parchment or wax paper, spooning any remaining syrup over them. Let the nuts stand until cool, about 5 minutes.
Place cabbage and scallions in a large bowl. Toss with the vinaigrette. Serve topped with blue cheese and walnuts.
This article first appeared in the March 2018 edition of the HealthPerks newsletter.