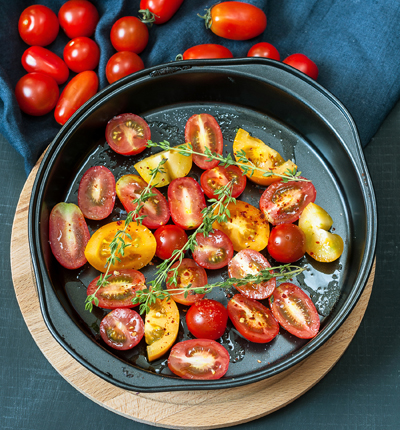 Serves 15
Serving size: about 1/3 cup
Ingredients:
3 pounds cherry tomatoes (a combination of red and yellow tomatoes is great)
½ Cup olive oil
½ to 1 tsp kosher salt
1 tsp black pepper
10 garlic cloves, sliced
8 large thyme sprigs
Instructions:
Preheat oven to 275 F. Spread tomatoes onto a large rimmed baking sheet. Add oil, salt, pepper and garlic. Toss gently to coat. Tuck thyme sprigs into mixture. Bake until tomatoes are wilted but not all have burst, about 90 minutes.
Cool tomato mixture to room temperature and discard thyme. Store tomatoes with oil and accumulated pan juices in an airtight container in refrigerator up to 2 weeks, or freeze up to 2 months.