Depression is a prevalent condition in today's world. Some reports estimate 15-20% of the global population, or 1.1 billion people, have some form of mental illness (2016 population data). 2-6% of global population or 268 million people suffer from depression.
This article first appeared in the medical column "Ask-the-Doc" in the World Journal.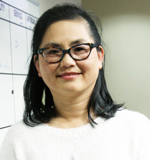 Dr. Chih-Mei Jill Kuendig (Chen) notes that depression carries a high risk of suicide and must be treated.
World Journal
February 11, 2019
by Richard Lee
Many people misunderstand depression as "just having a bad day." Others believe that depression 
is a temporary condition that can be "willed away" or that it will go away on its own if they just 
have enough resolve. Patients often choose not to comply with medical treatment, going on and 
off their medications as they see fit.
Dr. Chen says there are many causes or combinations of causes for depression, including genetics, the environment and trauma. For example, some people may have a family history of depression, growing up in a household where their parents always seemed unhappy. For first generation immigrants, the stress of learning a new language, adapting to a new way of life and assimilating into the American culture while dealing with occasional racism may have caused depression in 
those with limited ability to manage stress.
Symptoms of depression vary from person to person. At first, patients may appear down for no obvious reason. They may lose interest in activities they normally enjoy. Or they may change from being outgoing and optimistic to wanting to be alone. Sleep disturbances including insomnia often accompany depression. Patients may have trouble falling asleep or may wake up in the middle of the night with anxiety. Others may wake up earlier than usual. For example, they go to bed at 11 but wake up at 4-5 in the morning.
Other warning signs of depression include changes in appetite such as over- or under-eating, mood swings, uncontrollable crying or short-term memory loss. They may forget a conversation that had just taken place, feel less energetic and be extremely tired. In more serious cases, the person may appear to be perpetually sad, pessimistic, fatalistic, and lose interest and hope in life.
Taken individually, these symptoms may seem insignificant. But when a person experiences five 
or more specific symptoms for more than two weeks, depression is diagnosed. Dr. Chen warns that some patients with depression may have suicidal tendencies. Depression has one of the highest suicide rates among all mental health disorders. Therefore, it cannot be ignored and must be taken seriously. Patients with depression need to seek professional help right away.
Clinician Profile
Chih-Mei Jill Chen-Kuendig, MFT
California School of Professional Psychology, SF
El Camino Hospital, Mental Health and Addiction Services
25 years' experience marriage counseling and therapy
Languages: English, Taiwanese, Mandarin, conversational Japanese