Ingredients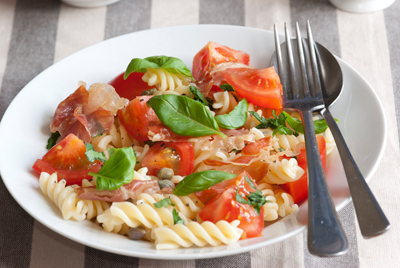 2 cups halved baby heirloom tomatoes
2 small zucchini, thinly sliced into half circles
1 small red bell pepper, cut into thin strips
1 cup fresh corn kernels
1 cup diced firm, ripe fresh peaches (about 2 medium)
1/2 cup thinly sliced green onions
Parmesan vinaigrette salad dressing
1 (16-oz.) package of rotini pasta
2 cups shredded smoked chicken (about 10 oz.)
1/3 cup torn fresh basil
Directions
Toss together first 7 ingredients in a large bowl, and let stand 10 minutes.
Meanwhile, prepare pasta according to package directions. Add hot cooked pasta and chicken to tomato mixture; toss gently to coat. Season with salt and pepper to taste. Transfer to a serving platter, and top with basil.

This article first appeared in the August 2016 edition of the HealthPerks newsletter.