12 servings
Skip
Ingredients: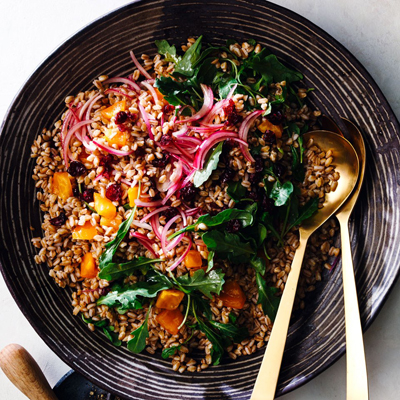 4 cups water
2 cups pearled farro
½ cup halved and thinly sliced red onion
½ cup lime juice
2 Tbsp sherry vinegar
¾ tsp kosher salt
1 pound Fuyu persimmons, ripe mangoes, or apples – chopped
½ cup dried cranberries
¼ cup extra-virgin olive oil
4 cups baby arugula
Freshly ground pepper to taste
Directions:
Combine water and farro in a medium saucepan and bring to a boil. Reduce heat to maintain a simmer and cover and cook until the farro is just tender, 20 to 25 minutes. Drain and rinse with cold water. Drain again.
Combine onion with lime juice, vinegar and salt in a large bowl. Let stand 5 minutes. Stir in persimmons (or mangoes or apples), cranberries, oil and the farro.
Just before serving, fold in arugula. Transfer the salad to a serving platter or bowl and garnish with pepper.
To make ahead: Prepare through Step 2 and let stand at room temperature for up to 1 hour or refrigerate for up to 1 day. Finish with Step 3 just before serving.
This article first appeared in the December 2017 edition of the HealthPerks newsletter.