Skip
Ingredients: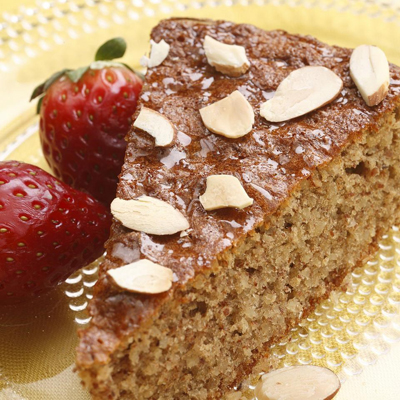 Cake
1 ½ cups whole almonds, toasted
4 large eggs, at room temperature, separated
1/2 cup honey
1 tsp. vanilla extract
½ tsp. baking soda
½ tsp. salt
Topping
2 Tbsp. honey
¼ cup sliced almonds, toasted
Instructions:
Preheat oven to 350°F. Coat a 9-inch springform pan with cooking spray. Line the bottom with parchment paper and spray the paper.
Process whole almonds in a food processor or blender until finely ground (you will have about 1¾ cups ground). Beat 4 egg yolks, ½ cup honey, vanilla, baking soda and salt in a large mixing bowl with an electric mixer (or use a paddle attachment on a stand mixer) on medium speed until well combined. Add the ground almonds and beat on low until combined.
Beat 4 egg whites in another large bowl with the electric mixer (use clean beaters on a hand-held mixer or the whisk attachment on a stand mixer) on medium speed until very foamy, white and doubled in volume, but not stiff enough to hold peaks, 1 to 2 minutes (depending on the type of mixer). Using a rubber spatula, gently fold the egg whites into the nut mixture until just combined. Scrape the batter into the prepared pan.
Bake the cake until golden brown and a skewer inserted into the center comes out clean, 25 to 28 minutes. Let cool in the pan for 10 minutes. Run a knife around the edge of the pan and gently remove the side ring. Let cool completely.
If desired, remove the cake from the pan bottom by gently sliding a large, wide spatula between the cake and the parchment paper. Carefully transfer the cake to a serving platter. To serve, drizzle the top of the cake with honey and sprinkle with sliced almonds.
This article first appeared in the May 2017 edition of the HealthPerks newsletter.