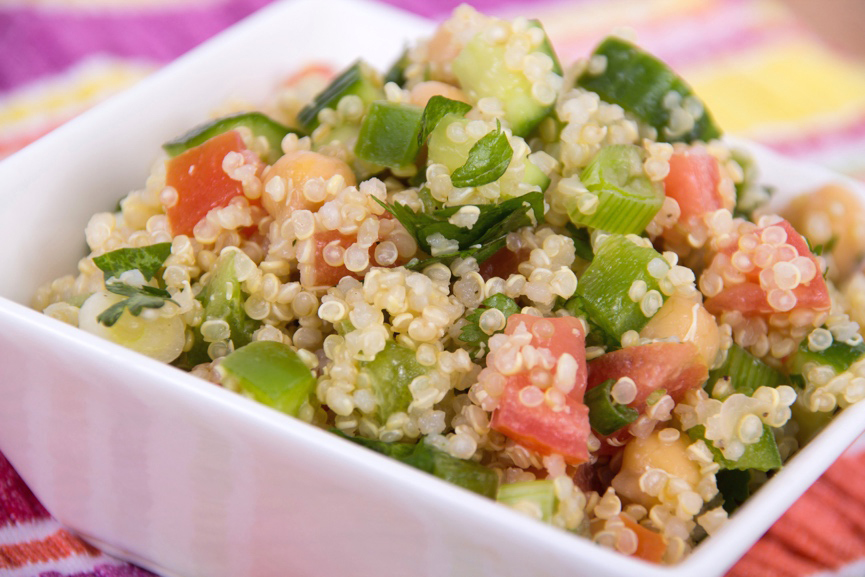 Ingredients
1 cup green bell pepper
1 lemon, wedges
1 tbsp parsley, fresh
1 cup red bell pepper
1 tomatoes, fresh
Hummus
1 olive
1 cup quinoa
Salt and pepper
2 tbsp apple cider vinegar
1/4 cup olive oil, extra virgin
1 pita, wedged
1/3 cup feta cheese
1 1/2 cups water
Directions
First rinse and drain your quinoa using a mesh strainer or sieve.
Next add your quinoa & water to saucepan, set burner to high, and bring to a boil.
Once boiling, reduce heat to low and simmer, covered with the lid slightly ajar, for 12-13 minutes or until quinoa is fluffy and the liquid has been absorbed.
While the quinoa cooks, chop and prep the remaining ingredients and whisk together your dressing ingredients.
For the vinaigrette, whisk together olive oil, apple cider vinegar, salt, and pepper. Pour over your quinoa bowl and toss.
Add any additional salt and pepper to taste, if desired.

This recipe first appeared in the May 2016 edition of the HealthPerks newsletter.