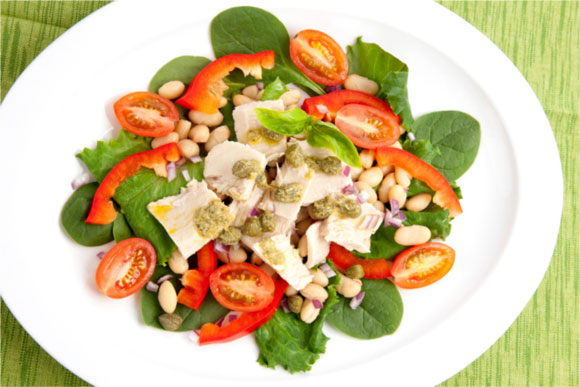 Ingredients
Salad
6 Cups Baby Spinach
1 Cup Sliced Mushrooms
1/2 Cup Sliced Cherry Tomatoes
1 Cup Canned White Beans
1/2 Cup Capers 14 oz White Tuna
Vinaigrette
2 Tbsp Olive Oil
2 Tbsp White Vinegar
1/2 Teaspoon Ground Pepper
1 Tbsp Lemon Juice
Instructions
Wash and dry baby spinach and drain white beans.
Put spinach, mushrooms, tomatoes, white beans, capers, and tuna in a large bowl.
In a small bowl, whisk together olive oil, vinegar, pepper, and lemon juice.
Drizzle vinaigrette mixture over the salad and toss lightly.
Serves 4.
This recipe first appeared in the June 2014 edition of the HealthPerks newsletter.