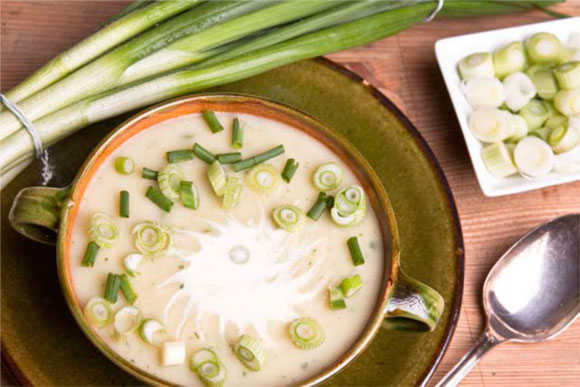 Ingredients
1 Kabocha squash, cut into 1-inch cubes, seeds removed
1 butternut squash, cut into 1-inch cubes, seeds removed
2 leeks, cleaned and diced
5 tablespoons olive oil
1/2 teaspoon sea salt
1/2 teaspoon powdered ginger
1/4 teaspoon ground cinnamon
1/4 teaspoon ground allspice
1/8 teaspoon ground cardamom (optional)
1/8 teaspoon freshly grated nutmeg
2 teaspoons fresh ginger, minced
6-8 cups vegetable broth
1 tablespoon lemon juice
Instructions
In a small bowl combine 1/4 teaspoon of the salt with the ginger, cinnamon, allspice, cardamom, and nutmeg until well combined.
Heat 2 tablespoons of oil in a stockpot. Add leeks plus a pinch of salt and sauté until golden and translucent, about 6 minutes. Add seasoning mixture and sauté until fragrant about 1 minute more.
Add the Kabocha and butternut squash. Stir for 4-5 minutes. Add broth to just cover vegetables. Cook until tender. Add 1 tablespoon lemon juice. Use immersion blender to purée soup until silky consistency. 
Taste; you may need another spritz of lemon juice or a pinch of salt. Garnish with a drizzle of pomegranate molasses. Serve.
This recipe first appeared in the November 2014 edition of the HealthPerks newsletter.