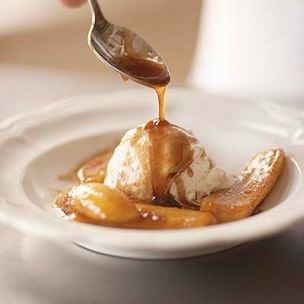 Ingredients
4 scoops good quality vanilla ice cream
1/2 cup (1 stick) unsalted butter
1/2 cup light brown sugar
1/2 teaspoon ground cinnamon
1/4 teaspoon kosher salt
4 bananas, peeled, sliced lengthwise and crosswise
1/4 cup dark rum
Instructions
Place scoops of vanilla ice cream in 4 individual dessert dishes. Freeze until ready to serve.
In a medium cast iron skillet, combine butter, brown sugar, cinnamon and salt. Place over medium-low heat or the coolest area of the grill, and cook, stirring constantly until sugar dissolves.
Increase heat to medium-high and add sliced bananas, stirring constantly and spooning butter mixture over fruit until they soften and begin to brown, about 3 to 4 minutes. Remove skillet from heat and carefully pour rum over the bananas.
To flambé bananas: Return pan to medium heat. Carefully tilt the pan slightly away from you to ignite the rum or use a stick lighter to light the rum. When the flames subside, lift the bananas out of the pan and divide over each portion of ice cream. Generously spoon warm sauce over the top of the ice cream and serve immediately.
This recipe first appeared in the July 2015 edition of the HealthPerks newsletter.