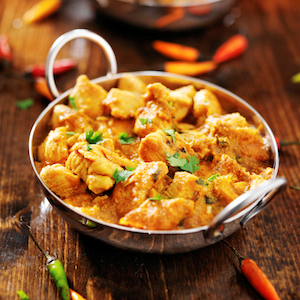 Ingredients
2 cups cubed, peeled sweet potato or 2 cups frozen carrots
2 cups small cauliflower florets
1 cup chopped onion
1 tablespoon Madras curry powder
1 tablespoon grated peeled fresh ginger
1 1/4 teaspoons salt
2 cloves garlic, minced
1 tablespoon fish sauce
1 cup frozen peas
1 (16 oz) can chickpeas, rinsed and drained
1 (13.5 oz) can light coconut milk
1 (14 oz) package extra-firm tofu, drained
3 cups hot cooked brown rice
3 tablespoons chopped fresh cilantro
Freshly ground black pepper (optional)
Instructions
Place root vegetables, cauliflower, onion, curry powder, ginger, salt, garlic, fish sauce, chickpeas, peas and coconut milk in an electric slow cooker; stir well. Cover and cook on LOW for 5 1/2 hours or until vegetables are tender.
Press tofu to reduce excess moisture. Preheat oven to 400°F. Cut tofu into (1-inch) cubes and arrange them in a single layer on a large parchment paper-lined baking sheet. bake, flipping halfway through, until golden brown and just crisp, about 40 minutes total.
Add tofu to vegetable mixture in slow cooker. Cover and cook on LOW for 30 minutes.
Spoon rice into bowls and ladle curry evenly over the rice. Garnish with cilantro and, if desired, black pepper.
This recipe first appeared in the August/September 2015 edition of the HealthPerks newsletter.