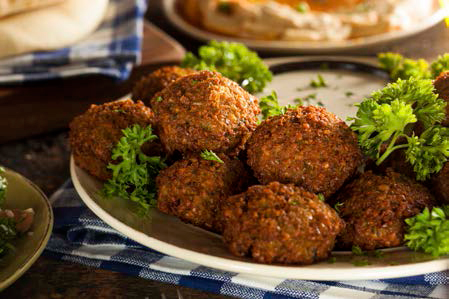 Ingredients
1 15-ounce can chickpeas, rinsed, drained and patted dry
1/3 cup chopped fresh parsley
4 cloves garlic, minced
3/4 cup white onion
1 1/2 tsp cumin
1/4 tsp each sea salt and black pepper
1/8 tsp cardamom
1/8 tsp coriander
3-4 Tbsp. all-purpose flour
3-4 Tbsp. olive oil for cooking
Directions
Add chickpeas, parsley, cilantro, onion, garlic, cumin, salt, pepper, coriander and cardamom to a food processor or blender and mix/pulse to combine, scraping down sides as needed until thoroughly combined. You're looking for a crumbly dough, not a paste.
Add flour 1 Tbsp. at a time and pulse/mix to combine until no longer wet. You must be able to mold the dough into a ball without it sticking to your hands.
Transfer to a mixing bowl, cover and refrigerate for 1-2 hours to firm up.
Once chilled, scoop out rounded Tablespoon amounts and gently form into 12 small discs.
Heat a large skillet over medium heat and add enough oil to generously coat the pan - about 2 Tbsp.
Once the oil is hot, add only as many falafel as will fit very comfortably in the pan.
Cook for a total of 4-5 minutes, flipping when the underside is deep golden brown. Repeat until all falafel are browned - the deeper golden brown they are, the crispier they'll be. They will also firm up more once slightly cooled.
Serve warm with cucumber sauce or hummus, inside a pita with desired toppings or atop a bed of greens.

This recipe first appeared in the February 2016 edition of the HealthPerks newsletter.