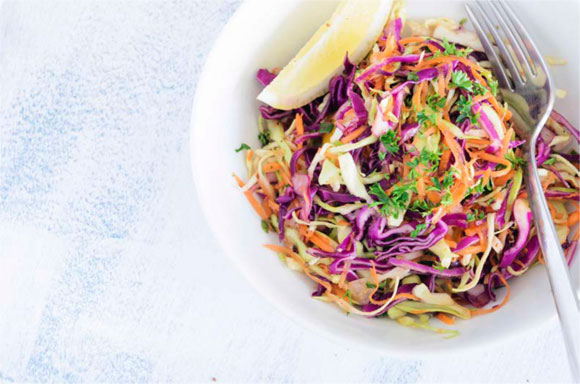 Ingredients
1/4 small red cabbage
1/2 small green cabbage
1/2 carrot, shredded
Zest of 1/2 lemon
1/4 cup lemon juice
1/4 cup olive oil
1 tablespoon honey
1 teaspoon salt
1/4 teaspoon black pepper
Instructions
Remove any tough outer leaves from the cabbage.
Trim the core and any tough stems from the cabbage and thinly slice.
Add to a bowl with the shredded carrot, lemon zest, lemon juice, olive oil, honey, salt and black pepper. Toss to combine.
Serve this right away for more of a salad, or store in the fridge overnight for a slaw that is more pickled.
This recipe first appeared in the August 2014 edition of the HealthPerks newsletter.