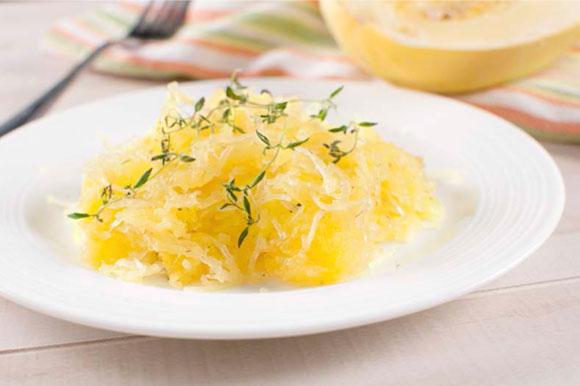 Ingredients
2 large spaghetti squash
4 tablespoons extra-virgin olive oil
8 tablespoons sweet butter
2 tablespoons capers, drained
1/4 cup diced zucchini
1/4 cup diced red bell pepper
4 tablespoons fresh lemon juice
4 tablespoons chopped parsley leaves
1/4 cup julienne tomato concasse (peeled and seeded)
Salt and pepper
Instructions
Preheat the oven to 400 degrees F.
Cut both squash in half lengthwise and scoop out all seeds. Rub them inside and out with the
oil and season with salt and pepper.
Place squash with the cut side down on a sheet pan or cookie sheet and cover with foil. Place
in the oven and cook until the rind is slightly soft or gives with little pressure, about 20
minutes. When they are done, scrape the meat out with a fork and reserve, keeping warm.
In a hot skillet, melt the butter and continue to cook until dark brown. Add the capers,
zucchini, and bell pepper to stop the butter from cooking any further, and cook stirring, until tender. Stir in the lemon juice and parsley and season with salt and pepper.
In a large mixing bowl mix the squash, butter sauce, and tomatoes and serve.
 
This recipe first appeared in the September 2014 edition of the HealthPerks newsletter.