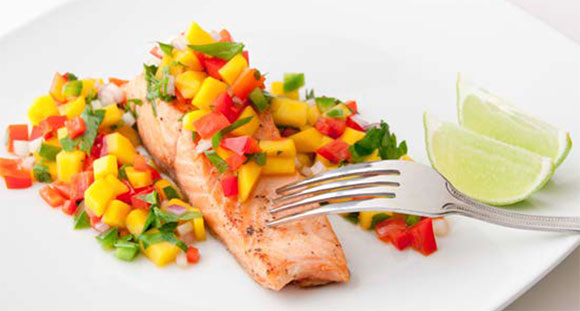 Ingredients
SALMON:
Vegetable or canola oil, for oiling the grill
4 (4-5 oz) center cut salmon fillets, skinned
2 tablespoons agave nectar
Kosher salt and ground black pepper
SALSA:
2 large onions
¼ cup olive oil
¼ cup fresh lemon juice
1/3 cup chopped parsley
2 scallions, sliced
3 tablespoons mint leaves, chopped
2 tablespoons capers, rinsed, drained and chopped
2 tablespoons orange zest
1 teaspoon crushed red pepper flakes
Kosher salt and ground black pepper
Instructions
SALMON:
Put a grill pan over medium – high heat or preheat a gas or charcoal grill. Brush the grilling rack with vegetable oil to keep the salmon from sticking. Brush the salmon on both sides with the agave nectar and season with salt and pepper to taste.
Grill until the fish flakes easily and is cooked through, about 3 to 4 minutes on each side. Transfer the salmon onto a platter and allow to rest for 5 minutes.
Spoon the salsa verde on top of the salmon or serve on the side as an accompaniment. 
SALSA:
Peel and trim the ends from each orange. Using a pairing knife, cut along the membrane on both sides of each segment. Free the segments and add them to a medium bowl.
Add olive oil, lemon juice, parsley, scallions, mint, capers, orange zest, lemon zest, and red pepper flakes.
Toss lightly and season with salt and pepper, to taste.
This recipe first appeared in the May 2015 edition of the HealthPerks newsletter.