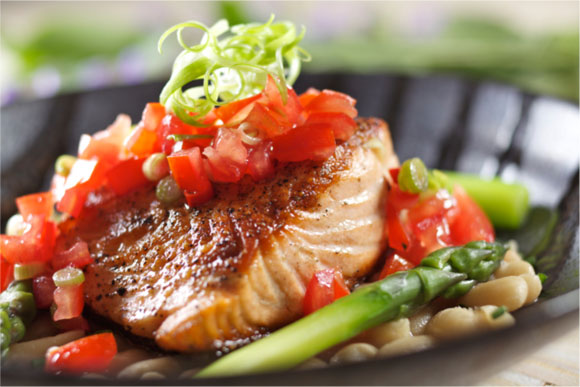 Skip
Ingredients

Salmon:
1 16oz Salmon Fillet
1 Cup White Wine
1 Cup Low Salt Tomato Juice
2 Cups Water
5 Whole Peppercorns









 
 
 
 
 
 
 
 
Salsa:
16 oz Chopped Tomatillos
1 Cup Diced Tomatoes
1 Cup Cilantro
1/2 Cup Diced Onion
1 Clove Minced Garlic
1 Jalapeño
1/8 Cup of Lime Zest
1/4 Cup of Lime Juice
1 Teaspoon White Sugar









 
 
 
 
 
 
 
 
Instructions
Pour wine, tomato juice, water, and sliced onions in a large saucepan. Bring to a simmer.
Place Salmon in liquid and lower the heat to just barely simmering. Cook gently for 6 to 10 minutes, then remove salmon from the liquid.
Peel tomatillos and rinse well. Boil in water in a medium pot for 5 minutes. Drain and let cool.
Dice tomatillos and mix in a large bowl with tomatoes, onions, garlic, cilantro, jalapeño, lime zest, lime juice, and sugar.
Serve Salmon on plates with salsa and your choice of side. Yields 4 servings.









 
 
 
 
 
 
 
 
This recipe first appeared in the February 2014 edition of the HealthPerks newsletter.