Ingredients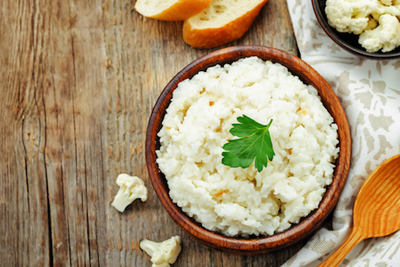 1 large head of cauliflower (2-2 ¼ lbs.)
1 cup low-sodium broth (vegetable or chicken)
3 Tbsp. milk
3 Tbsp. light or nonfat cream cheese
¼ tsp. garlic salt
freshly ground black pepper and salt
freshly chopped chives and parsley (optional)
Instructions
Separate cauliflower into florets and chop core finely.
In a pot, over high heat, simmer broth. Add cauliflower, cover, and reduce heat to medium. Cook until cauliflower is very tender, about 12-15 minutes.
Drain and discard liquid (the drier the cauliflower is, the better). Add milk, cream cheese, and garlic salt. Mash together with potato masher until desired consistency is reached. For a creamier consistency, run the mashed cauliflower through a food processor.
Season with salt and pepper to taste. Top with fresh herbs and serve.