Ingredients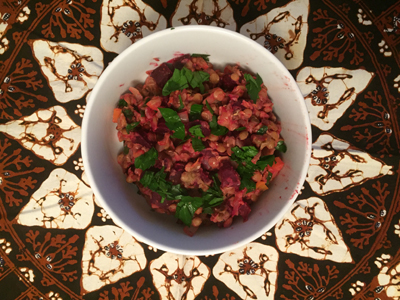 For the Beets:
2 large beets, peeled and cubed
1 tsp olive oil
Pinch sea salt
For the Lentils:
1 cup dry green lentils
1 large carrot, diced
1 medium onion, diced
Pinch sea salt
For the Lemon Vinaigrette:
2 cloves garlic, minced
Juice of one small lemon
1 tsp lemon zest
1 tsp dijon mustard
2 T olive oil
Optional:
1/4 cup fresh flat leaf parsley, chopped
Instructions
Preheat oven to 350.
Dice the beets and place them in a bowl. Toss in the olive oil and sprinkle with sea salt. Spread the beets out onto a lined baking sheet.
Cook in the oven for about 35 minutes.
While the beets are cooking, add the lentils, carrot, and onion to a pot. Fill with enough water to cover the lentils. (About 2 cups) Bring to a boil, then turn down heat and simmer until all the water is absorbed and the lentils are soft.
To make the vinaigrette, add all the ingredients to a small bowl and mix together well.
To serve, place lentil mixture to a bowl. Pour the dressing over and toss. Gently add beets and fold in. Garnish with fresh flat leaf parsley and extra lemon zest if desired. Enjoy hot, warm or cold.
This should last at least 4 days in the fridge.
Time saver options:
Purchase pre-cooked beets in the produce department.
Cube, add olive oil and sea salt.
Cook lentils, carrots and onion in a rice cooker.
This article first appeared in the April 2017 edition of the HealthPerks newsletter.