Ingredients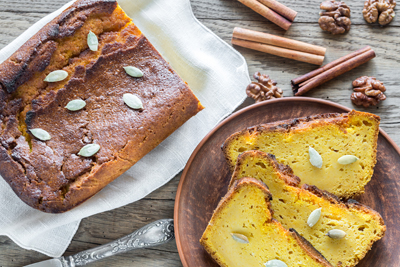 1 ½ cups pumpkin puree (canned or fresh)
1 ¼ cups unbleached all-purpose flour
¾ cup sugar
1 tsp baking soda
2 tsp pumpkin pie spice
½ tsp nutmeg
¼ tsp cinnamon
¼ tsp salt
2 Tbsp coconut oil, melted
2 large egg whites
1 ½ tsp vanilla extract
baking spray
2 Tbsp pepitas (shelled pumpkin seeds)
Directions
Make sure all of the ingredients are at room temperature, and the coconut oil is melted.
Preheat oven to 350. Spray a 9 x 5-inch loaf pan with baking spray.
In a medium bowl, combine flour, sugar, baking soda, pumpkin pie spice, nutmeg, cinnamon, and salt with a wire whisk.
In another large bowl, mix oil, egg whites, pumpkin puree, and vanilla. Beat at medium speed until thick.
Add the flour mixture slowly and blend at low speed until combined.
Pour batter into a 9" x 5" loaf pan, top with the pepitas, and bake on the center rack for 50-55 minutes, or until a toothpick inserted comes out clean.
Makes 12 servings