In the battle against cancer, patients need doctors who are as relentless as the disease itself.
At the El Camino Hospital Cancer Center, our skilled, board-certified, fellowship-trained experts come from the nation's finest facilities, including MD Anderson Cancer Center, Stanford, and UCSF. Our multidisciplinary team works in close collaboration, offering patients the latest drug protocols; advanced surgical interventions; and sophisticated technologies such as the CyberKnife®, which delivers radiation directly to tumors with submillimeter accuracy.
As a result, El Camino Hospital has gone beyond predicted survival rates in patients with five types of advanced (stage III or IV) cancer. We frequently take patients who have been turned away from other institutions, some traveling from 100 miles away.
Patients also have access to genetic counseling; nutrition counseling; and our new "healing space," where they can attend yoga and meditation classes, seminars, and support groups.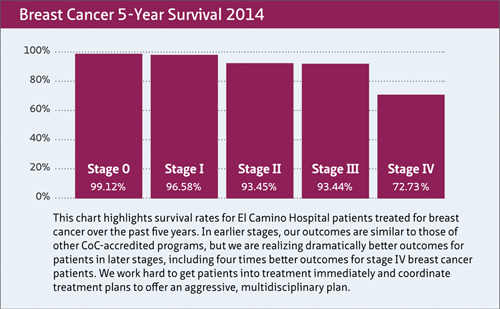 Skip
Highlights of Successful Outcomes
Our $5.5 million, state-of-the-art space in the Oak Pavilion allows us to provide care usually available only at large academic medical centers. We're proud of our exceptional outcomes and resources. Just a few examples:
Our five-year survival rates for patients treated for breast, colon, gynecologic, prostate, and lung cancers exceed the national benchmarks.
Outcomes for patients with stage IV breast cancer are four times better than outcomes at other programs accredited by the Commission on Cancer (CoC).
Our outcomes for patients with stage IV colon cancer are double the national benchmark.
Our survival rates are considerably better than those of other CoC-accredited programs for patients with stage III and IV uterine cancer.
El Camino Hospital Patients with stage II, III, and IV non-small cell lung cancer have substantially better outcomes than at other CoC-accredited programs, and we have quadrupled our five-year survival rates for patients with stage III and IV lung cancers of any kind.
Source: El Camino Hospital Cancer Center (2015 Cancer Program Report; Lung Cancer Report: 2014 Data)
This article first appeared in the Summer 2016 edition of the El Camino Hospital Health Beat magazine.