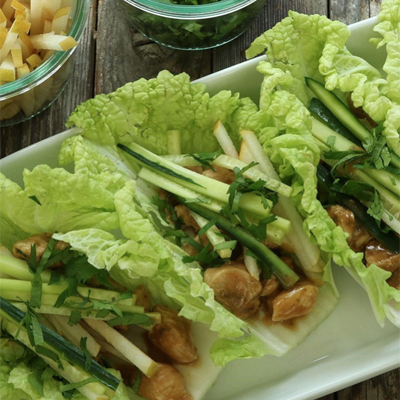 Skip
Ingredients:
8 small Napa or Savoy cabbage leaves
1 Tbsp avocado oil
1 pound boneless, skinless chicken breast, trimmed and cut into bite-size pieces
¼ tsp salt
5 Tbsp prepared peanut sauce
1 Tbsp rice vinegar
1 ½ tsp lime zest
1 cup julienned Asian pear
1 cup julienned English cucumber
¼ cup finely chopped fresh cilantro
Directions:
Wash and dry cabbage leaves well and cut out any tough ribs or stems.
Heat oil in a large nonstick skillet over medium-high heat. Add chicken, season with salt and cook, stirring often, until cooked through, 4 to 6 minutes.
Meanwhile, whisk peanut sauce, vinegar and lime zest in a small bowl.
Remove the pan from the heat, add the sauce mixture and stir to combine. Serve the chicken in the cabbage leaves, topped with pear, cucumber and cilantro.
This article first appeared in the May 2018 edition of the HealthPerks newsletter.