Skip
Ingredients: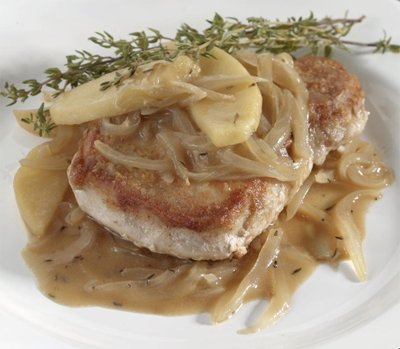 ¾ cup reduced-sodium chicken broth, divided
2 tsps. arrowroot starch
2 tsps. coconut oil
4 4-oz. boneless pork chops, ½ inch thick, trimmed of fat
1 small yellow onion, sliced
1 tart apple, such as Granny Smith, peeled and sliced
¼ cup apple juice
2 tsp. Dijon mustard
¼ tsp. dried thyme
Directions:
Mix 2 tablespoons broth and arrowroot starch in a small bowl.
Heat oil in a large nonstick skillet over high heat. Add chops and cook until browned, 2 to 3 minutes per side. Transfer to a plate.
Reduce heat to medium-high and add onion to the skillet. Cook, stirring often, until it starts to soften and brown, 2 to 3 minutes. Add apple and cook, stirring often, until tender, 3 to 5 minutes. Stir in the remaining broth, juice, mustard, thyme, and the arrowroot mixture. Bring to a boil, stirring, until thickened and glossy, about 1 minute. Return the cops to the pan and heat through. Serve immediately.