Prep Time: 10 minutes
Total Time: 30 minutes
Servings: 8
Skip
Ingredients: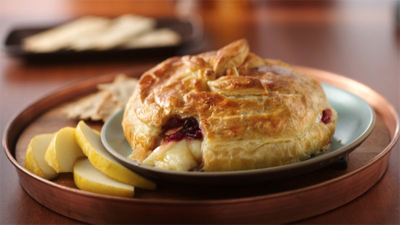 8 ounce can Reduced Fat Crescent Rolls
8 ounce Brie round
Black pepper to taste (about 1/8 teaspoon)
1/4 cup toasted pecan pieces (toast pecans with canola cooking spray in a nonstick skillet)
3-4 tablespoons Whole Berry Cranberry Sauce
Steps (Directions):
Preheat oven to 375-degrees. Coat a baking dish slightly larger than the size of the brie round (a 9-inch round or square baking pan will work if needed) with canola cooking spray.
Open the can of crescent rolls and unroll the dough out in a rectangle on a piece of wax paper or similar. Trim about 4-inches off of one of the short edges (about 2 crescent roll's worth of dough) and save for another time. Crimp the remaining crescent roll edges closed to make one complete square of dough.
Using a serrated knife, trim the white edge off one end of the brie round and sprinkle the pepper evenly over this end and top with the pecan pieces. Press down on the pecans gently so they mostly stay in place. Top with cranberry sauce.
Place the brie round, onto the center of the dough and wrap the dough up and around the brie to completely cover it. Crimp the top edges of the dough with your hands to seal everything in. Place the brie round onto your prepared baking dish.
Bake about 20 minutes or until the dough is nicely browned and the brie is starting to ooze. Place the brie on a serving dish. Serve if desired with whole wheat crackers!
This article first appeared in the November 2017 edition of the HealthPerks newsletter.