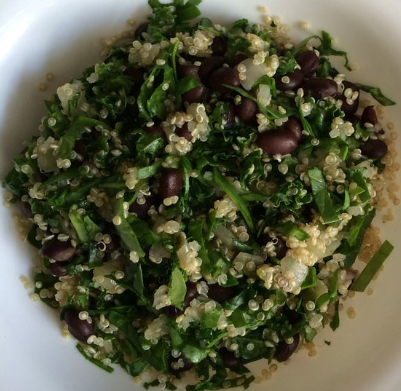 Serves 4 

Ingredients
1 15-ounce can black beans, drained and rinsed
2 cups cooked quinoa (cooked according to package directions)
½ cup finely chopped red onion
3 cups packed baby spinach
1 lemon, juiced
1 ½ Tablespoons extra-virgin olive oil (or avocado oil)
1 clove garlic, minced
½ teaspoon cumin
¼ teaspoon paprika
¼ cup pine nuts
Directions
Combine the beans, quinoa, onion, and spinach in a mixing bowl.
Whisk together the lemon juice, olive oil, garlic, cumin and paprika in a small bowl.
Drizzle the dressing over the salad and toss.
Garnish with pine nuts.
Variations:
Use any other kind of beans and experiment with other whole grains, such as barley, bulgur, farro or freekeh, in place of the quinoa.