Ingredients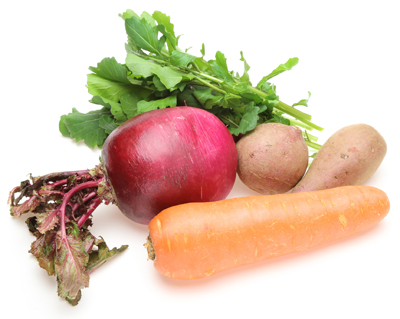 3 to 4 pounds of root vegetables such as parsnips, rutabagas, carrots, potatoes (white or sweet), golden beets, turnips, and celery root, peeled and cut into chunks
1 head of garlic, the cloves separated and peeled
4 Tbs olive oil, divided 2 Tbsp and 2 Tbsp
Salt and black pepper
1/2 cup chopped onion
1 heaping tablespoon tomato paste
1 28-ounce can chopped tomatoes
2 cups (packed) of chopped leafy greens such as kale or chard
1 teaspoon Italian seasoning or dried oregano
Tabasco sauce (optional, to taste)
Instructions
Preheat oven to 450°F. In a large roasting pan, mix together the vegetables, garlic, 2 Tbsp olive oil. Lightly sprinkle with salt and pepper.  Roast for 45 minutes, turning the vegetables over in the pan halfway through cooking.
Meanwhile in a 4 to 5 quart Dutch oven, heat 2 Tbsp of olive oil over medium high heat. When the oil is hot, add the onions and sauté until the edges of the onions just begin to brown. Stir in the tomato paste, and cook a minute longer.
Add the canned tomatoes and Italian seasoning. Stir. Bring to a simmer, then lower the heat to the lowest possible setting. Cover the pot and let cook gently while the root vegetables are roasting.
When the root vegetables are ready (browned on the edges and easily pierced with a fork), remove from the oven. Add chopped leafy greens to the pot of tomatoes. Simmer until the greens are wilted, about 5 minutes. Stir in the root vegetables. Season with Tabasco to taste if using.
Serve with a slice of whole grain bread and a garden salad
TIP: Save un-used tomato paste by freezing paste in a zip-loc style bag. Simply break off chunks as needed for future recipes.
TIP: To peel garlic, hit with flat side of large knife. This will loosen garlic skin. Simply slip garlic clove out.
Cancer Healthy note from our Dietitian:
A recipe that combines high fiber, colorful vegetables. Orange vegetables rich in beta carotene to support your immune system; leafy greens high in folate to build healthy cells and genetic material and the tomato base serving up lycopene, an antioxidant—all protective phytonutrients that help fight cancer.