Skip
Ingredients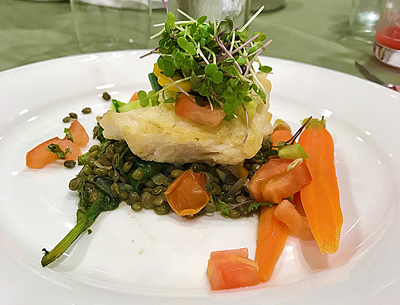 1/2 English cucumber, stripped, then halved lengthwise and thinly sliced
1 cup (6oz) cherry tomatoes, quartered
1/2 yellow or orange bell pepper, seeded and cut into 1-inch julienne
1 medium shallot, sliced
4 Kalamata olives, sliced
2 tablespoons chiffonade fresh basil
1 tablespoon fresh lime juice
1 1/2 teaspoons olive oil
1 teaspoon honey
1/2 teaspoon red pepper flakes
1/2 teaspoon salt
4 halibut (or snapper) fillets, each 5oz
Instructions
In a bowl, combine the cucumber, tomatoes, bell pepper, shallots and basil.
Toss gently to mix. In a small bowl, whisk together the lime juice, 1 teaspoon of the olive oil, the honey, and red pepper flakes.
Pour the lime juice mixture over the cucumber mixture and toss gently to mix and coat evenly. Set aside.
Sprinkle the halibut fillets on both sides with salt.
In a large, non-stick frying pan, heat the remaining 1/2 teaspoon olive oil over medium-high heat. Add the fish to the pan and cook, turning once (4 minutes on each side).
Transfer the halibut fillets to warmed plates and top each with 1/4 of the salsa.
Serve immediately.