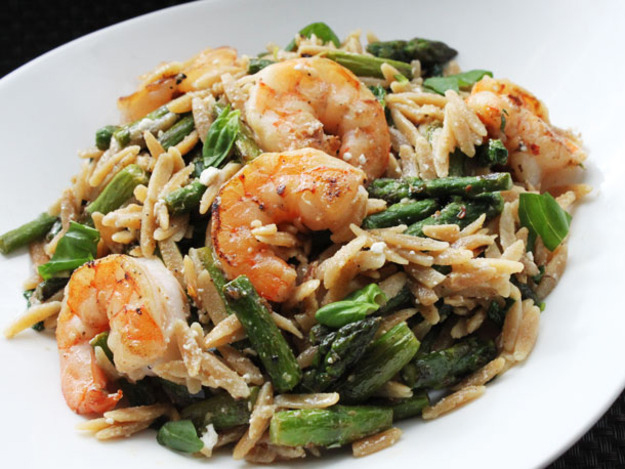 Ingredients
1 Cup (about five ounces) whole wheat orzo
1 ½ tablespoons vegetable or canola oil, plus more for the pasta
2 medium cloves garlic, minced (about two teaspoons)
½ teaspoon red chili flakes (optional)
1 bunch asparagus, ends trimmed and roughly chopped into two-inch pieces (about two cups)
Kosher salt and freshly-ground pepper
1 ½ pounds peeled and deveined shrimp
½ cup chopped fresh basil leaves
4 tablespoons fresh juice from two lemons
1 tablespoon extra-virgin olive oil
1/2 cup crumbled feta chees
Directions
Fill the skillet 2/3 of the way with salted water and bring to a boil over high heat.
Add the orzo and cook according to package instructions.
Drain and set aside, transfer to a bowl, and toss with a little vegetable or canola oil.
Wipe out skillet and return to medium-high heat.
Add oil and heat until simmering.
Add garlic and chili flakes and cook, stirring, until fragrant but not browned, about one minute.
Add the asparagus, season with salt and pepper, and stir to coat.
Cook until asparagus is tender but retains a crisp bite, three to four minutes.
Move the asparagus to the sides of the pan and add the shrimp.
Cook, turning shrimp occasionally, until pink and opaque, about four minutes total.
Add the orzo back to the pan, stirring to combine, along with most of the basil, the lemon juice, extra-virgin olive oil, and feta.
Toss to combine.
Allow orzo to heat through, season to taste with more salt and pepper as desired, and serve immediately, topped with remaining basil.

This recipe first appeared in the April 2016 edition of the HealthPerks newsletter.